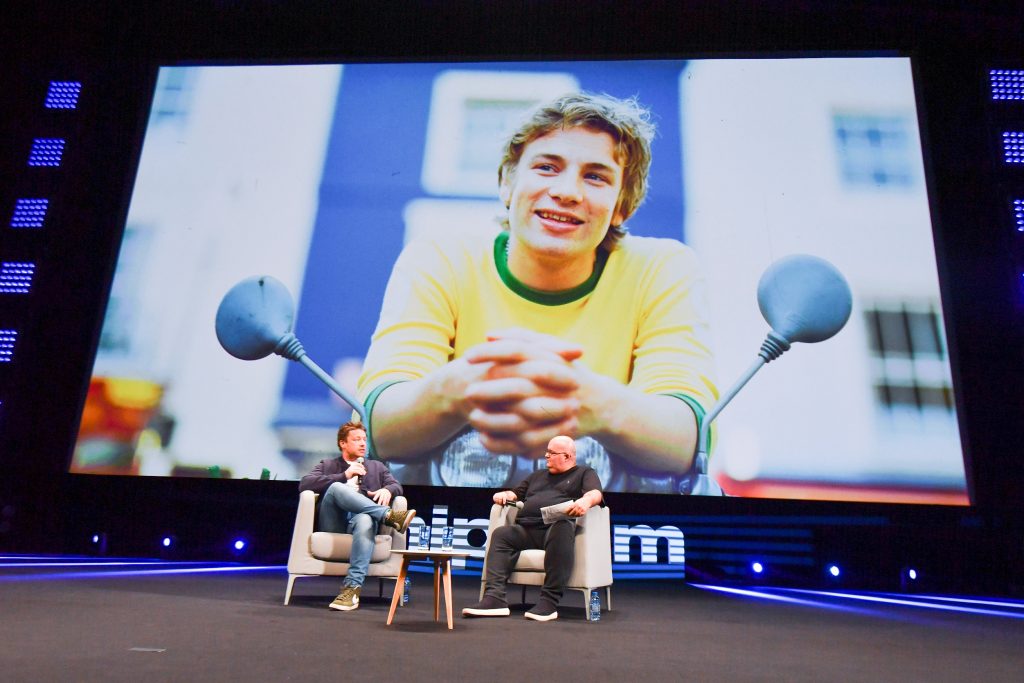 CANNES — MIPCOM, the international television marketplace taking place this week in France, is a bit like a giant food court for TV. There's a lot of junk food, some of the fare is overpriced and underdone and a lot of it is hard to swallow. Then there's Jamie Oliver.
The British celebrity chef delivered what was billed as a "Media Mastermind Keynote" Monday — really more of a relaxed, half hour chat — with Fairfax Publications editor-at-large Michael Idato acting as moderator. The savvy MIPCOM veteran wisely sat back and let his chatty guest shine.
Oliver is celebrating 20 years in the TV cooking business dating back to his debut as a tosseled sous chef working the River Cafe which led to his leap to fame on The Naked Chef.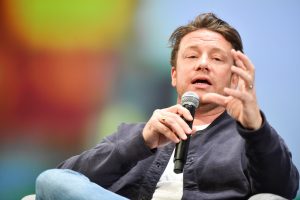 Turning to look at clips from years past as they flashed across the Palais des Festivals giant Grand Auditorium screen, Oliver modestly allowed that it looked like he had finally "grown into my lips." He's headlined close to 40 shows in 20 years even though, at the start, he "really didn't want to be a telly host." Things really went "bonkers" when his first cookbook was published in 1999. Fame at first was overwhelming the 43-year-old told the packed auditorium. "It was a bit like being in a boy band."
The biggest change over the years, he explained, was that things went from "cooking is for girls to cooking can get you girls."
Oliver also spoke about his campaign to improve the lot of kids in England who gobbled down buckets of sugar for breakfast and lunches. He's heartened by reports his nutritious alternatives have had a positive impact in The UK and hopes governments elsewhere take up the, by his own admission, very costly cause.
Oliver demonstrated a tremendous grasp of the international television business, basically describing his shows as like "a good party" with a savvy DJ spinning new hits every five or ten minutes. Clearly his recipe is working; Oliver's catalog of shows are seen in 182 territories through 185 broadcasters.
He enjoys welcoming celebrity guests on his "end of the pier" restaurant series with childhood pal Jimmy Doherty, saying he had a great time recently with Danny DeVito. It takes so long to get to the dockside eaterie, he says, the celebrities are pretty much stuck there for an entire day.
The other series he likes to do best these days is the "quick and easy" one where he uses just four or five ingredients. "It took 20 years," he says, "to learn that the most important ingredient is restraint!"