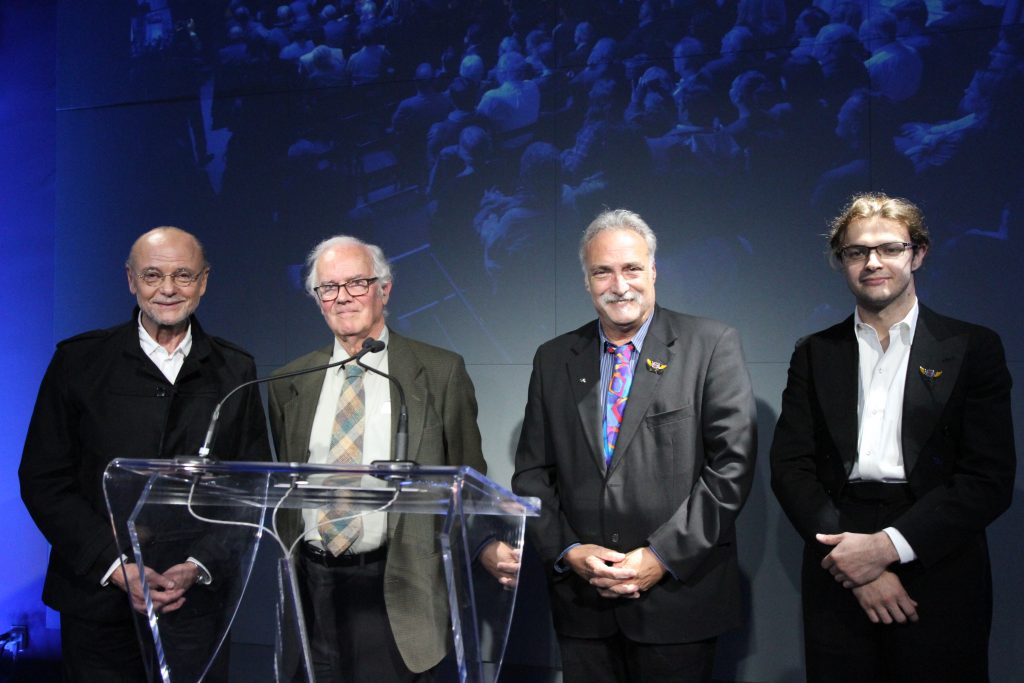 Philo fans (l-r) Moses Znaimer, Malcolm Baird, Phil Savenick and Farnsworth's great grandson Jonathan
Imagine if you could talk to the man who invented electronic television.
The next best thing was possible Thursday night in Toronto, as the MZTV Museum of Television presented a wonderful event saluting Philo T. Farnsworth.
The evening began with a screening at Zoomerplex — the Liberty Village campus of CEO Moses Znaimer's broadcast and digital properties — To see the premiere of "Forgotten Genius: The Boy Who Invented Electric TV." Introducing the short documentary was the man behind the doc, veteran LA-based TV writer-producer Phil Savenick.
Savenick is the keeper of the flame of the Farnsworth legacy. Years after the inventor died in 1971,he tracked down his widow Elma "Pam" Farnsworth  — in on the development and sometimes referred to as "the Mother of television" — and curated the artifacts connected with the early TV experiments. The first TV tube, the first camera lens, the first crude transmitter and many drawings and blueprints — they're all, miraculously, on display at MZTV.
To a life long TV geek such as myself, it is a bit akin to standing before ancient artifacts plundered from a mummy's tomb. Savenick's passion for this collection is infectious and it was illuminating hearing him explain it all in the documentary as well as in person at the new Farnsworth display at MZTV.
Farnsworth himself is a tragic hero worthy of a feature film biopic — a project Savenick has been lobbying for for years. At 14, in 1922, the Utah youth was plowing the family potato field when he was struck by the idea that electrons could be trained to follow the same back and forth path in order to transmit live images.
The young lad hadn't even embarked on his two year high school studies. His curiousity was fueled at the time by devouring every Modern Science periodical he could get his hands on.
When he got to high school he astounded his science teacher by presenting a TV blueprint as a science project. The teacher made his own sketch of Farnsworth's mad idea, a document that would come in handy years later.
What followed were years of astounding invention and ultimate heart ache. As Znaimer pointed out at the event, there are at least six pioneers who can lay some claim to the development of television. Three died penniless, including Farnsworth. Two of the others were black-hearted bastards who stole many of the inventor's ideas and cheated him and his family out of millions.
One family member was at the Toronto event, Jonathan, a great grandson, who wore Philo's perfectly preserved tux from the '20s. Also in attendance was Malcolm Baird, the son of John Logie Baird — the canny Scott who invented a mechanical form of television that slightly pre-dated Farnswoth's invention. Baird, a college professor, spoke eloquently about his father's work and was generous in his praise of his father's rival's legacy. Farnsworth traveled to The UK in the '30s to visit Baird and demonstrate the electronic invention, Baird took one look and threw in the towel, basically abandoning his life's work and converting production to the electronic system. There are still Baird TV's being sold today.
Znaimer has some of Baird's original flywheel mechanical sets among his astounding collection of prewar contraptions on permanent display at MZTV.
The story of how RCA head David Sarnoff and his chief scientist, Vladimir Zworykin, blindsided and robbed Farnsworth is right out of the Putin school of international treachery. Zworykin basically visited Farnsworth, claimed he was a friendly rival from Westinghouse, and tricked Farnsworth into showing him all his science secrets under the pretence that an investment in the fledgling operation was pending. Zworykin then stole every idea and passed himself off as RCA's resident genius.
Farnsworth eventually fought back as the patent rights went to trial. Two juries – swayed by the evidence of that early, crude sketch that history teacher made of Farnsworth's TV gizmo — found in the Utah native's favour. Farnsworth was awarded one million dollars to be paid over ten years at $100,000 per year. RCA and Sarnoff ponied up just the first $100 grand, stiffing Farnsworth on all future payments and doing him out of untold riches in license fees.
If that wasn't nasty enough, the family — decades later — got screwed again, this time by West Wing creator/writer Aaron Sorkin!
Sorkin was enamoured with the story of Farnsworth and the inventor's brother, a furniture maker who took up glass blowing to help with shaping the flat bottomed lens instrumental in transmitting images. He wrote a screenplay for a feature film about the duo, which, according Savenick, stunk!
The misfire discouraged others from moving forward with a Farnsworth feature. Sorkin revisited the idea as a Broadway play, "The Farnsworth Invention," which struggled and quickly closed on Broadway. The family got zilch from Sorkin's efforts, and, worse, had to deal with the scripted liberties the TV executive producer took with Farnsworth's story. Sorkin wrote that the inventor lost to Sarnoff at the trial and also dwelt on his descent into alcohol abuse.
Farnsworth did in fact turn to drink in his later years as funding disappeared and as he found his life's work written out of the history books. Who wouldn't have hit the bottle! One of the technologies he invented, however, enabled NASA to transmit images of "First Man" Neil Armstrong setting foot on the moon, live, in 1969. Farnsworth sat and watched history unfold live, at home, on the invention he created, his his wife at his side. According to Savenick, the weary inventor turned to her and said, "It was all worth it."
MZTV goes a long way towards restoring Farnsworth's incredible legacy. That all these artifacts are now on display in one Canadian museum is a world class triumph. Follow this link for more information on the interactive exhibit on now at MZTV.