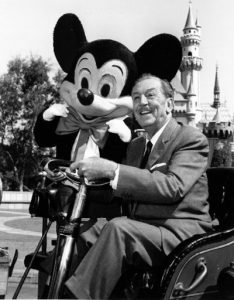 Gawrsh! Yesterday was Mickey Mouse's 90th birthday.
It's easy to be cynical about the Walt Disney Company's big-eared corporate icon in 2018. While new attempts are made every decade or so to reboot the mouse as a relevant, animated "property," he's often seen today as a symbol of American commercial excess, or pointed to as the point where merchandising ruined everything.
Back on November 18, 1928, however, when his first talking cartoon short, "Steamboat Willie" hit the screens, he was wonder.  The innovation of synchronized sound helped Mickey make a great first impression, as did the saucy personality delivered by designer and animator Ub Iwerks. This cartoon still gets laughs, and will this afternoon when I show it to a group of seniors in a long term care residence in Peel.
Disney himself provided Mickey's voice, and while he had little to say in "Steamboat Willie," Disney's falsetto brought plenty of pluck and energy to the character in dozens of theatrical cartoons to follow. I have several of the black and white Mickey's on 16mm film and it is astonishing to see the leaps in animation the studio took in those first few years.
Mickey is barely more than a stick figure in the first few shorts, a big eyed ink blot not far removed from established rival Felix the Cat. By the time Burt Gilett directed "Mickey's Gala Premiere" in 1933 — a cartoon packed with Hollywood caricatures — the characters and the backgrounds had caught up with the frantic storytelling pace.
Jump ahead just two more years and Mickey's first Technicolor short, "The Band Concert," takes Leigh Harlaine's rousing score of the William Tell Overture into animation orbit. By this point, Disney's much hallowed "Nine Old Men" were all working at the studio, with Clyde Geronimi, Dick Huemer, Milt Kahl, Ward Kimball, Jack Kinney and Wolfgang Reitherman all in on the animation of "The Band Concert." Other great MM shorts from the '30s: "Mickey's Man Friday," "Thru The Mirror" (1936), "Clock Cleaners" and "Lonesome Ghosts" (1937).
For me, Disney's vocal performance hit a high point with "The Brave Tailor"(1938). The chain-smoking studio chief was no Mel Blanc (the voice of Bugs Bunny, Daffy Duck and dozens of other Warner Bros. favourites) but nobody had a better handle on Mickey as a shy superhero. Disney eventually handed off vocal duties to studio jack-of-all-trades Jimmy MacDonald (although Walt can be heard in the mid-'50s on portions of The Mickey Mouse Club). Later, Wayne Allwine spoke for Mickey from the late '70s through his death in 2009. True story: Allwine, in 1986, married the lady who did the voice of Minnie Mouse, Russi Taylor!
Mickey's not the only star still working in their 90s today. Dick Van Dyke, who will be seen in a few weeks in Disney's new "Mary Poppins" movie, turns 93 Dec. 13; his old Dick Van Dyke Show boss, Carl Reiner, is 96. Harry Belafonte (91), Mel Brooks (92),  Cloris Leachman (92), Angela Lansbury (93), Cicely Tyson (94), Bob Barker (94), Eva Marie Saint (94), Larry Storch (95), Doris Day (95), Betty White (96), Hugh Downs (96), Carol Channing (97),  Kirk Douglas (101), Olivia de Havilland (102) and Norman Lloyd (104) are all still available for TCM cruises.