Captain's log Stardate Thursday, January 17. Star Trek: Discovery boldly sets sail for a second shot-in-Toronto season.
Fourteen new episodes will premiere on CBS All Access in the States and on specialty channel Space and the french-language Z in Canada. Canadians can also stream it on Crave. Netflix has rights in over 180 other countries.
Given the legacy Star Trek enjoys as TV's most successful franchise, scrutiny on this series is intense. Trekkers are like Leafs fans; enough fooling around, they want to plan the Stanley Cup parade now.
The fact the series hasn't exactly zoomed to market at warp speed has irked some believers. Reports of confrontation and abuse in the writers room has also leaked, with executive producers and showrunners getting tossed and eliminated at a rate not seen since the days of the doomed red-shirted extras in the original series.
All that being said, I really liked the first season. Maybe it helped that I am not one of the faithful, having ignored previous Star Trek incarnations. My take: Sonequa Martin-Green is terrific as the franchises' savvy new kick-ass commander.
Still, Season Two's jump straight into the heart of the original show's mythology smacks either of desperation or, perhaps, of an urge to appease the core fans.
Episode 201, "Brother," finds the crew of the U.S.S. Discovery joining forces with Captain Pike from the U.S.S. Enterprise as they investigate mysterious signals from a being called the Red Angel. The Pike character was in one of the original Star Trek skippers and surfaced again in movie versions.
But forget about that: this season, Commander Michael Burnham (Martin-Green) comes face to face with her estranged brother, the famous half-Vulcan named Spock.
Then there's this terrible accident. Pike and Spock accidentally get mixed up in the transporter room, beaming aboard a new combo character: Spike.
Calm down, that doesn't happen. That's a joke. Sheesh.
Beyond the return of the series, CBS All Access announced this week that a Star Trek: Discovery spin-off series is in the works. Chinese action star Michelle Yeoh, who plays Federation Captain Phillippa Georgiou on the series, will head a new series exploring Georgiou's work with Starfleet's secretive Section 31.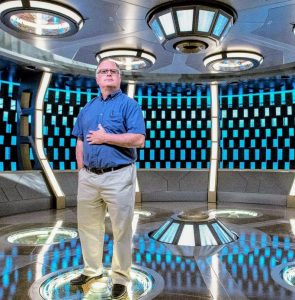 Then there's that Patrick Stewart "Picard" series. Will one or both be produced, Like Discovery, in Toronto? CBS is boldly going ahead with a Canadian studio. A half hour animated Star Trek: Below Decks comedy is also on order. Set phasers for overkill!
I got to visit the transporter room in September of 2017 at Pinewood Studios just prior to the launch of Discovery. Despite those rocky production reports, I found the set to be a virtual sea of tranquility. Follow this link to that out of this world visit.