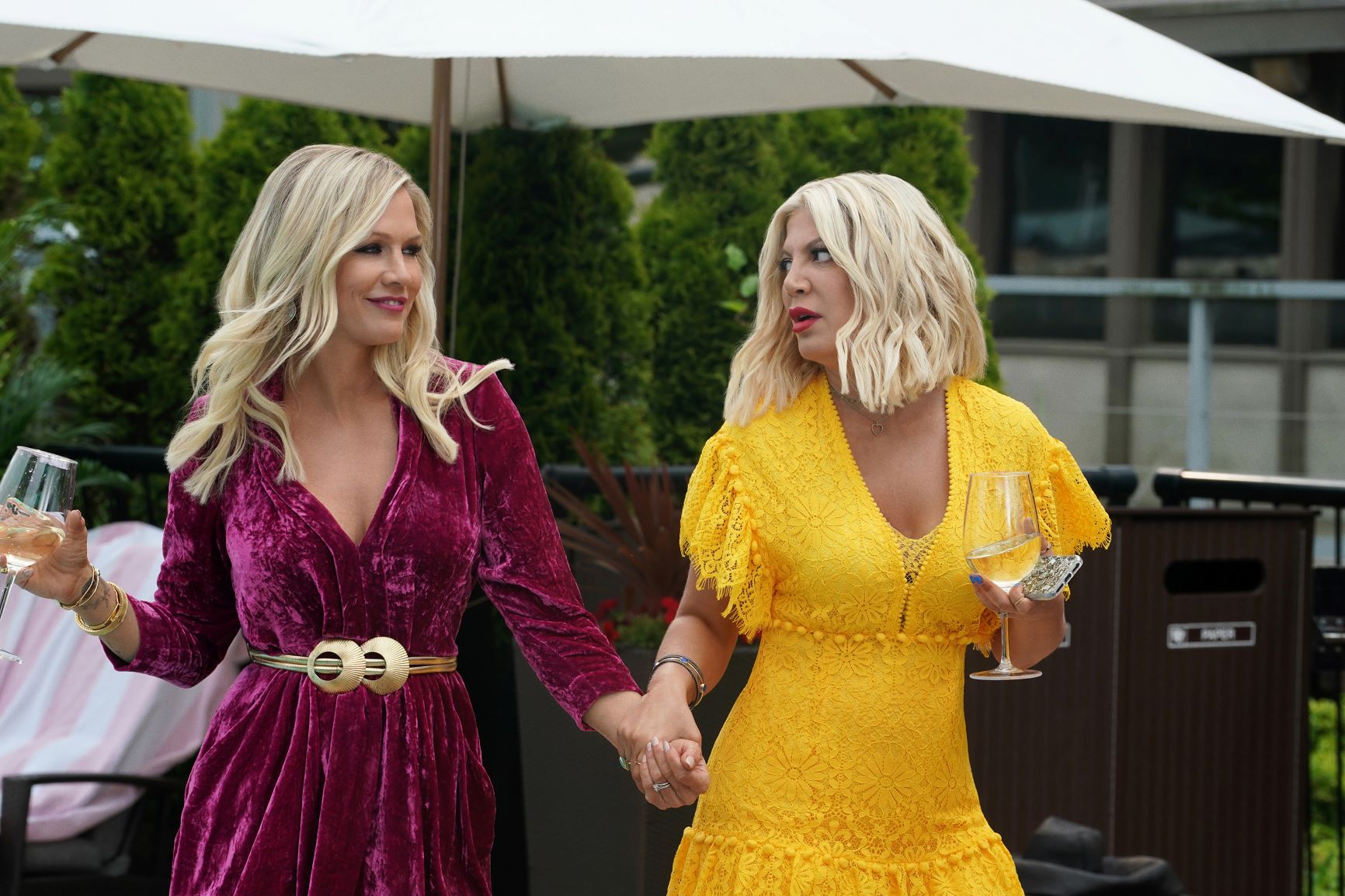 Full disclosure: I never watched the original Beverly Hills 90210. I'm not a fan of prime time soaps to begin with and this one in particular held no interest. These kids were all at least a half generation behind and I was never into the hairspray and tabloid headlines. My '90s were spent helping to raise my own family.
I did watch, however, the advance screener sent to critics for the new BH90210, a six-episode "event series" premiering Wednesday, Aug. 7 at 9 p.m. ET/PT on Fox and Global. My reaction as a non-fan: BH90210 exceeds all expectations and then some.
Most know the premise by now. This is not a traditional reboot of the series. The various cast members all play heightened versions of themselves in that they are all former Beverly Hills 90210 cast members. Two of the former stars, Tori Spelling and Jennie Garth, helped create this spinoff along with fellow executive producers Chris Alberghini, Mike Chessler and Paul Sciarrotta.
They've somehow managed to both embrace and mock the whole 90210 legacy. BH90210 is to the original series what "Galaxy Quest" is to Star Trek. This is 90210 by way of Episodes.
The beauty of it is that, like me, you never had to watch the original to get a kick out of this spinoff. In fact, it probably helps. Real fans might be a little disappointed. It might be like finding out at the end of Lost that it was all a joke.
The original cast lived their young lives as fodder for paparazzi and the tabloids. The seemingly bottomless fascination with celebrity culture didn't start with 90210 but all those rumours of hook-ups and rehab sold a lot of magazines in the '90s. Therefore, if you were only aware of the cast or characters through the half truths you saw at the check-out counter, you will be fully up to speed with BH90210.
The Canadian in the cast, Jason Priestley, plays Jason Priestley, director. That's true; Priestley got his start directing episodes of Beverly Hills 90210 and directs on his more recent series, Call Me Fitz and the popular Global sleuth series Private Eyes. In BH90210, however, he is a director with a short fuse, taking swings at men in tights who play superheroes who own't listen to direction.
In the new pilot, the cast has gathered for a 30th anniversary fan convention in Las Vegas. Gath plays Jennie Garth, a thrice married actress who hits the bar hard and then hits on a pig farmer by the pool. Before you can say, "Peach Pit," she hops into bed with Priestley. There's a funny morning after scene with the two of them waking up to their deed. Garth grabs the sheets and heads for the bathroom, Priestley clings to the pillow.
In real life, Garth is also on her third marriage. The stars all seem to have embraced the kernel of truth that keeps them in the celebrity spotlight and are taking it to the bank. It is the William Shatner primary directive: don't fight it, boldly go with it.
Spelling plays a former 90210 star named Spelling who is estranged from her family's billions and keeps trying to cash in on her dwindling fame with a string of cheesy domestic reality shows. As in real life, these shows co-star her husband (although it is not her real-life Toronto-born hubby Dean McDermott in the new series). As in real life, the couple share six children and countless bills.
Spelling's character Spelling is broke again as the new show starts and together with Garth hatches this idea to cash in with a new 90210 reunion series — just as in real life. Spelling has become so good at parodying her public image even she seems to have erased the line between reality and imagination.
Which is fine with me as long as the writing is as clever as it is in this new series. It's fun to see Spelling recoil in horror once she realizes she's flying coach, or squeezing into an old dress from the original series thanks to spanx. Garth also gets away with some of the more snapier, self-mocking lines.
"What is it that one guy said, 'You can't go home again?' " Jennie asks Tori. "What guy?" Tori asks. "I don't know," says Jennie. "I only went to a fake high school."
Ian Ziering plays Ian Ziering, a muscle-bound shameless self promoter — not a super stretch for the Sharknado star. Youngest alumni, Brian Austin Green, plays a jet-setter married to a more famous actress. In real life he's married to Samantha Fox. Gabrielle Carteris plays the head of the actor's union. In real life, she is president of SAG-AFTRA. In the new series, she gets hit on by a woman at a bar. In real life, she's been happily married for 27 years. There are enough hard left turns in this story to keep everyone guessing.
The new series begins with 90210 troublemaker Shannen Doherty on the outs with the rest of the cast. In real life? Her character, Brenda, was always the villain, on-screen and off-. Producers and stars were reportedly fed up with her lateness and attitude for years. Even she copped to her bad girl rep. It all gets thrown into the BH90210 blender.
The recent passing of 90210 colleague Luke Perry at 52 is acknowledged in the first episode with an impromptu toast. It's not quite enough, but it adds to the general sense, for actors and viewers, that mid-life brings lasting consequences.
Where many reunion shows fail, I feel, is by trying to pick things up where they left off — in tone and well as in content. There was a good reason many of these long-running shows were cancelled in the first place — even the true fans eventually tired of the same-old stale drama.
Here, BH90210 throws the old scripts into a bonfire and gathers round for laughs. For six weeks, that is exactly the right approach, for the actors and for the audience. Rating: ****