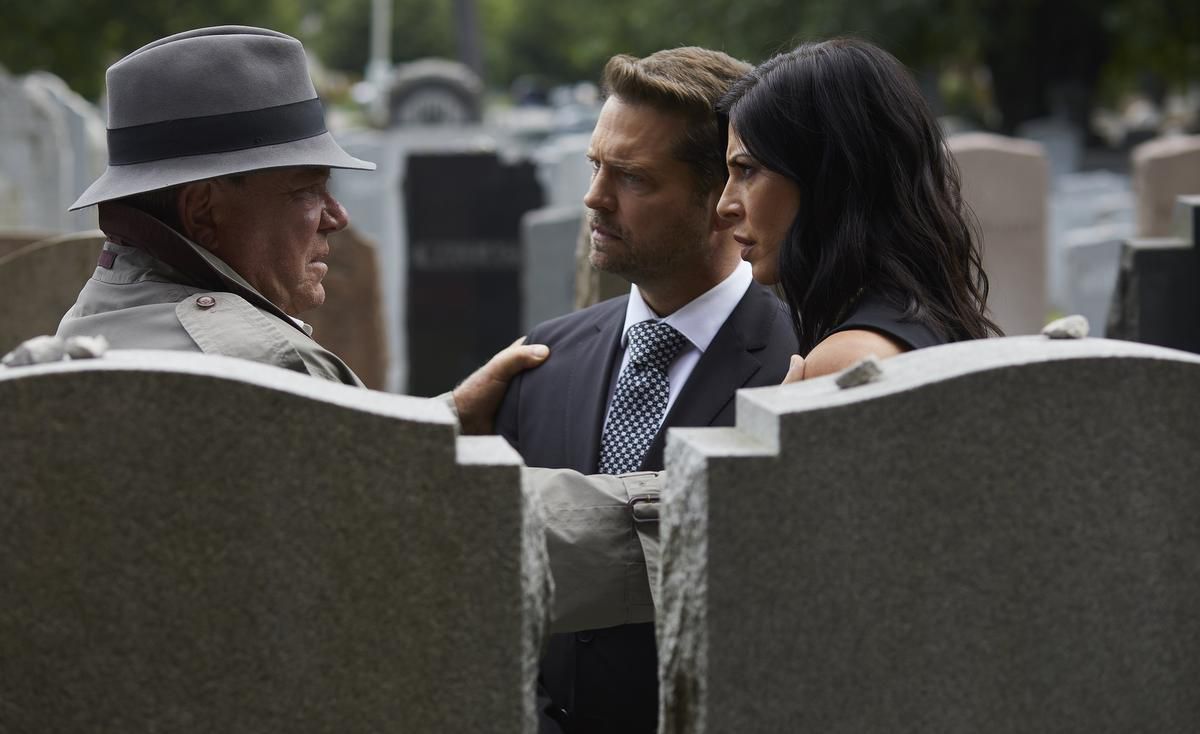 Wednesday night is Jason Priestley night on Global with the actor fronting two shows likely to wind up in the Canadian Top 10 for the week.
First up at 8 p.m. ET/PT is the season finale of Private Eyes, the top-rated scripted series in Canada this summer — American or Canadian. At 9 p.m., Priestley joins his old Beverly Hills pals on the rebranded reboot BH90210. (See previous post).
Returning as guest star on Private Eyes is William Shatner. The Captain, now 88, is back as a rival detective who fakes his own murder and then hires Angie and Shade (Cindy Sampson and Priestley) to track down his (would be) killers.
The episode, directed by Gail Harvey, was shot one whole year ago. Global kicks Private Eyes around its schedule like a soccer ball, saving episodes for these summer months with a long break in between. That used to be the way to kill a show, but Private Eyes comes back every time stronger than ever. It is a perfect summer whodunnit; and people love Priestley.
Shatner, who was seated in a darkened pub set on the series' Toronto soundstage, can be a prickly interview but also an instructive fellow — often simultaneously. "Is what you're asking, 'What do you look for in a role?'" he Shat-splained last August.
To be fair, I had it coming. Listening back to the audio file a year later, my question was a tad messy. Even I get nervous chatting up The Shat.
"The character has to function in the story," he explained, answering his own question. "If there's emotion involved, which is really the thing an audience looks to… if it isn't there you try to make it there one way or the other, and I find ways of doing that."
"Yesterday," he continued, "I ad-libbed a whole thing thinking that part of that could be used to indicate an emotional involvement that was not in the script. I just ad-libbed it, thinking, they might use it, they might not."
Sheila McCarthy, a veteran Canadian actress skilled in both comedy and drama, plays his shady character's ex-wife on the episode. Colin Mochrie and his actress wife Debra McGrath — both better known for comedy than drama — also have key roles.
"Comic actors seek the inherent comedy in a situation and subtly emphasizes that. It's mystical … I don't know quite how to explain it to you other than the feeling of it." Shatner tried anyway, suggesting the comic actor helps "the actor who is moving around in the egg shell of the plot, trying to imbibe some of the yoke."
Shatner even broke himself up at that one. Still, he kept his sunny side up.
"There's a freedom that comic actors might have playing with the words or the staging or saying to the director why don't I try this…if they're not afraid of getting fired. Especially in television where time is existence."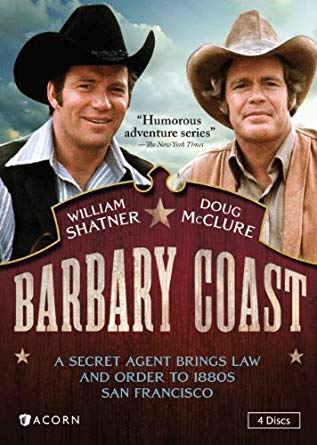 Shatner has existed in TV time longer than most. I thought I'd throw him a curve and ask about a series few remember today: Barbary Coast. The gimmicky western co-starred Doug McClure and aired from 1975 to '76. Set in San Francisco, the series starred Shatner as a master of disguise, with he and McClure sort of cowboy spies.
It was Shatner's first regular series since Star Trek went off the air in 1969. The only reason I know anything about it is because I collect 16mm film, and happen to own a print of ABC's Fall Preview reel for 1975 — featuring a clip from Barbary Coast.
"Are you serious? By God," said Shatner, laughing at the memory.
"It was three extensive makeups a day." After each scene was shot, Shatner said he would "run up to the makeup room and rip off the rubber that was on my face. By the end of my week my skin was raw. Three different characters a day!"