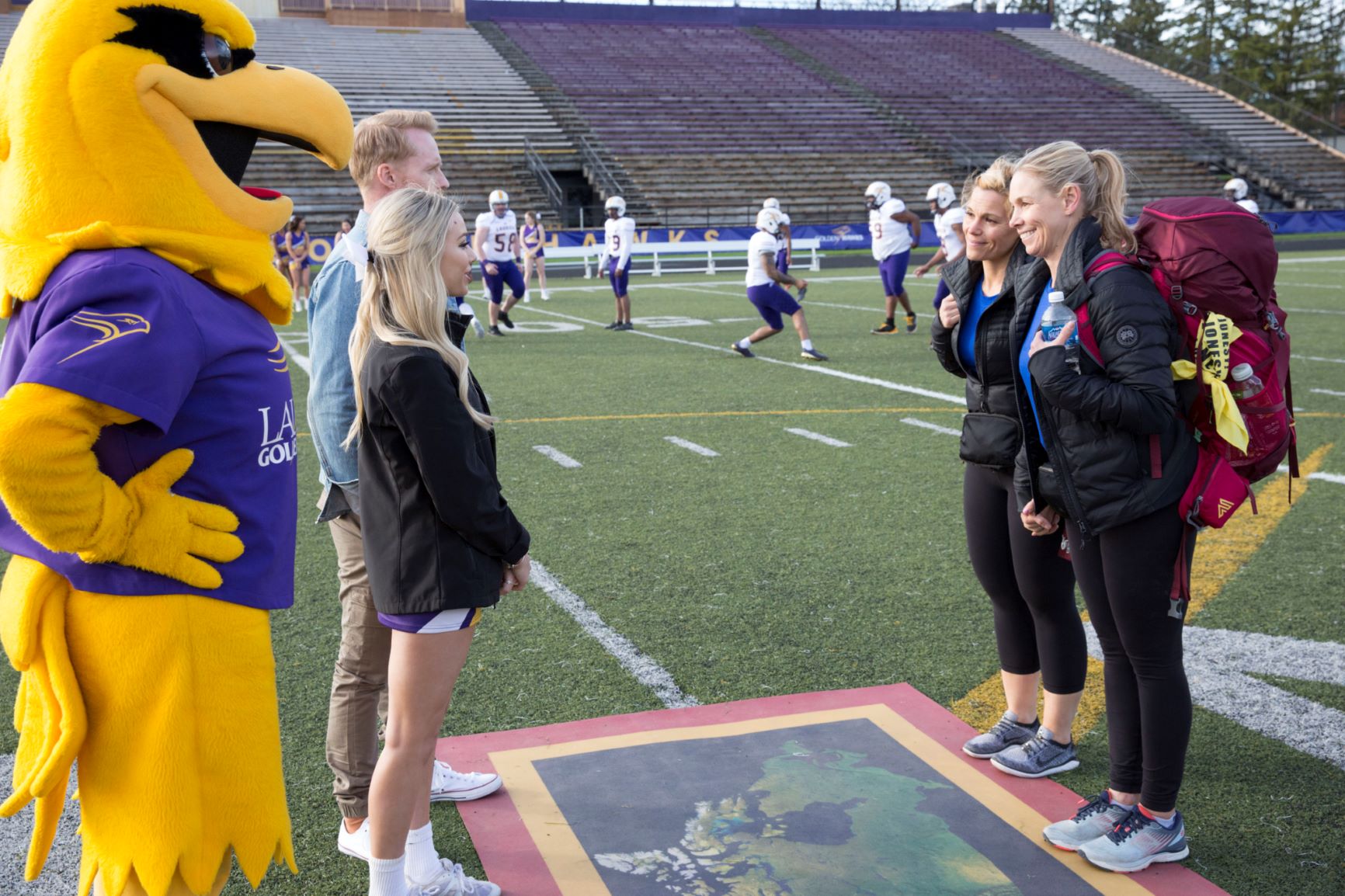 What a dirty trick! Trish and Amy from Etobicoke were eliminated on Tuesday's episode of The Amazing Race Canada after being asked to perform an almost impossible task: math!
The six teams remaining in the race had to travel to the Perimeter Institute for Theoretical Physics to solve a gravity-based algebra equation. This involved dropping a tennis ball from an upper floor, timing how long it took to reach the ground and then determining how many feet the ball traveled.
What the? Who the? Aren't contestants on this show supposed to be swinging off bridges and chomping through bowls of worms? Who thought solving math problems was Must-See TV?
I joined a group of reporters in Kitchener- Waterloo as the racers sped through this leg of TARC. This southwest Ontario city used to be more about how many beers one could chug down during Octoberfest. Now, with all the tech titans in town, including Google and Shopify, the place has turned into Silicon Valley North.
The Perimeter Institute in particular is quite the modern temple of learning. Colourful portraits of top physicists adorn the hallways, giving the Perimeter a brainy Hall of Fame vibe. This looks like the kind of place where the characters from The Big Bang Theory would come to play.
The algebraic equation proved too much for work out mom's Trish and Amy, who had been barely hanging in the past few weeks anyway. On this week's show they were handicapped by a Speed Bump which meant they were forced to ride around for a while in one of the sponsor's cars. Hey, these shows don't pay for themselves!
Earlier stops involved a robot maze challenge at the University of Waterloo as well as a culinary test at a local bakery. Another challenge was set up at a German restaurant where competitors were supposed to dress up in lederhosen and take verbal orders from customers without writing anything down. Nobody chose it, so a lot of schnitzel and sauerkraut went back in the freezer.
First to arrive at the Pit Stop, which was centre field at the Wilfred Laurier University's Knight-Newbrough stadium, were front runners Dave and Irina. Director Rob Brunner kept the players practicing and the cheerleaders cheering while host Jon Montgomery and the arriving contestants stayed in focus in the foreground.
Seeing Dave and Irina jog in first is getting to be a familiar sight this season. The married couple from Montreal won a trip to Frankfurt to add to the two other trips they've already collected. It was Irina who aced the algebra challenge. Together with her head-butting mixed martial arts champion hubby, these two look unstoppable.
Still, the ones who were supposed to win it all don't always as we've seen in year's past. Everybody is just one wrong cab ride from getting eliminated. Five teams remain in the race, which resumes next Tuesday night at 9 p.m. on CTV. The Amazing Race Canada remains well out in front of all other TV shows in English Canada this summer, drawing a total of 1,777,000 viewers the week of July 29 – Aug. 4 according to Numeris.