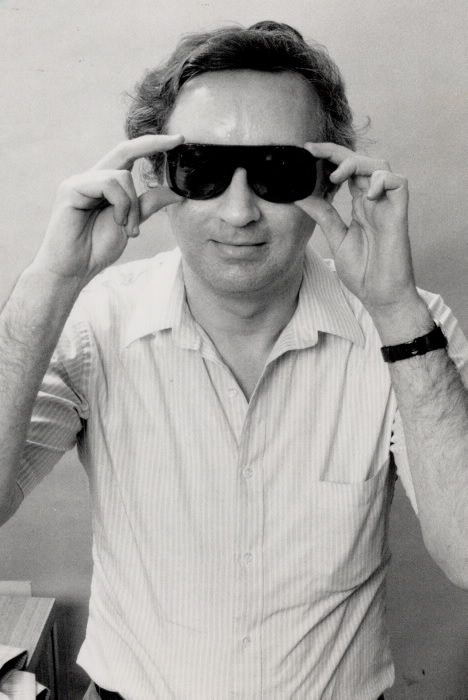 You type a lot of obits these days when you work the TV beat. This one hits home harder than most — Jim Bawden.
It was Bawden's TV column I read in the Toronto Star back when I was in high school and college. He covered the medium in print for 40 years (including an early stint at The Hamilton Spectator) continuing right up to a few weeks ago at his blog.
Bawden's copy had an immediacy to it. He brought the reader elbow to elbow to the stars as if everything took place over Cobb Salad at Musso and Franks Grill on Hollywood boulevard.
I stumbled into this business back in the early '80s at TV Guide Canada. A few years later, I got the golden ticket to cover the Television Critics Association press tour. The first one I attended was held in Phoenix, Arizona, with press and talent sequestered at the Frank Lloyd Wright-ish Arizona Biltmore Hotel.
This was back when stories were pounded out on IBM selectas. Rows of them were set up in a makeshift press room, along with dozens of telephones. Reporters were people — mostly men then — who looked pissed that they were stuck interviewing The Fonz or one of the Cosby kids and not out breaking the next Watergate caper.
I stepped into this world green as grass and was relieved to find two faces I knew if only from their newspaper mug shots – Jim Bawden and an LA based colleague of Jim's who contributed to The Star's Starweek TV supplement, Erik Knudsen. They were leaning against a wall when I approached. I shook Jim's hand, which was a unique experience; much like receiving a fresh, unwrapped Mackerel at a fish market. For someone who visited hot spots such as LA and Phoenix all the time, Bawden seemed completely unfamiliar with the sun.
Rare in an era of fierce rivalry among competitors, both Bawden and Knudsen kindly clued the new kid into the proceedings. Avoid this guy; never talk to this guy; never, ever, ever get into the pool with this guy.
Bawden was on the press tour before there was a press tour. He was the first Canadian among the American press invited to mingle and report. To put it in perspective, the year he started, the No. 1 TV show in America was Marcus Welby, M.D. Gunsmoke, Bonanza and Ironside were Top-10 hits. Wayne & Shuster and Front Page Challenge were still hits in Canada. Millions watched CBC.
Bawden's stories from the earliest press tours were epic. Things were a lot more informal back then. One story he told me was that he and the TV reporter from the Buffalo News once enjoyed a private dinner at the home of Lucille Ball.
I was fortunate to run into Jim when I did. He was often AWOL at press tours, trolling for the stars of the past. Bawden would rather be at the old actor's home talking to the last remaining silent movie queen than the cast of a current TV hit.
The Toronto native, however, was always happy to shine some light on the Canadian television scene. TVO's Saturday Night at the Movies host Elwy Yost, for example, could count on at least one Starweek cover a year.
Stefan Brogren, a.k.a. "Snake" from the original Degrassi series, credited Bawden with rescuing that long-running Canadian series from cancellation when it stumbled out of the gate. It was a Bawden Starweek story that shed light on what was then a low budget little Sunday afternoon series. He said it was fun and fresh and deserved a prime time slot. Then CBC programming boss Ivan Fecan acted on the suggestion and the franchise ran for 30 years.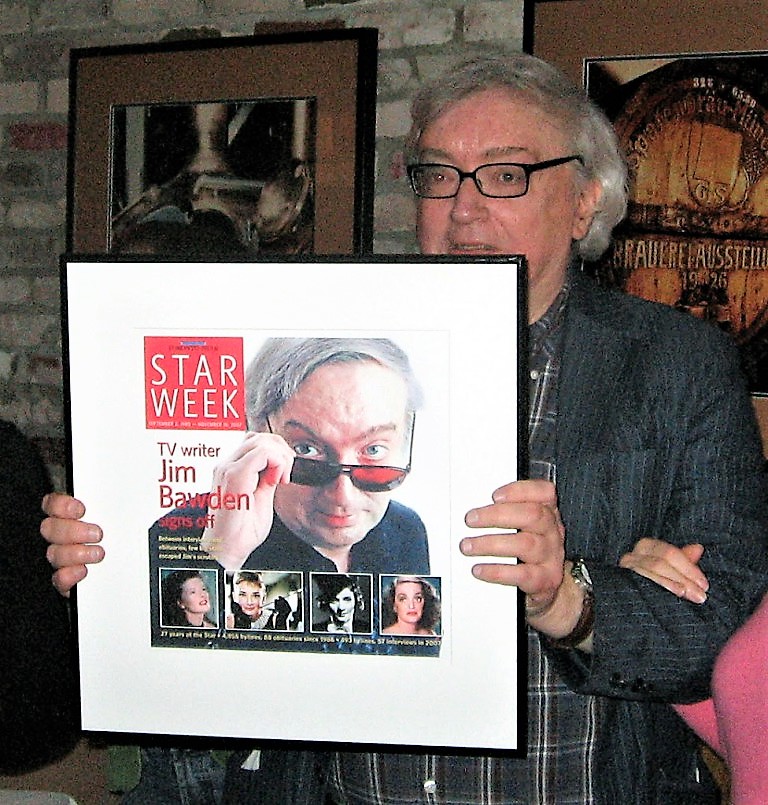 In 2008, Jim reluctantly accepted a buyout at The Toronto Star. A going away party was arranged at the Bier Markt on The Esplanade in Toronto. CBC National News anchor Peter Mansbridge stopped by to personally offer a salute. Mansbridge's CTV counterpart Lloyd Robertson couldn't be there, but was repped by network PR chief Scott Henderson, who read a note from Lloyd congratulating Bawden and saying how much the anchorman would miss their semi-annual chats.
Many of Bawden's Star pals also made the scene, including former movie and music critics Ron Base (read the spot-on tribute to Bawden on Ron's Facebook page) and Peter Goddard and subsequent Star TV scribes Vinay Menon and Rob Salem. There were also dozens of publicists from CTV, Global, CBC, studios and production companies. Rival TV columnists and editors, including John Doyle from The Globe and Mail, also toasted Mr. Television.
In the intervening years, Jim would email me on occasion to either share some industry gossip (he had the best) or to talk about a mutual pal, occasional TV Guide contributor and movie savant Harry Purvis. When Harry passed away, Jim would continue to remind me that the pack rat left a house full of every issue of TV Guide dating back to the '50s and all I had to do was grab a truck and picked them up from his nephew. Not wanting to get profiled on hoarders, I never took him up on it.
Jim continued to write about television, dutifully reviewing Canadian shows and documentaries at his blog. His last entry was for a Nature of Things doc which aired on CBC in January about Cleopatra. I wrote about it too, but only Jim could write that he once interviewed the star of the 1933 Cecil B. De Mille version of Cleopatra, Claudette Colbert – who told him she was afraid of snakes.
Last year, Jim sent me a copy of the latest book he had co-authored with friend and colleague Ron Miller — Conversations with Legendary Television Stars: Interviews from the first Fifty Years. The book captures encounters with everyone from Eve Arden, James Arness and Bea Arthur to Lawrence Welk, Jonathan Winters and Effrem Zimbalist Jr. It was the third book written by the pair for the University Press of Kentucky.
I'll treasure my signed copy and all the insider-y tales. You can hear Jim's voice on every page and if you love classic television, pick up a copy.
What I'll miss, however, is the chance to hear his low-watt way of speaking again in person. The questions I would ask: what was James Komack, the creator of The Courtship of Eddie's Father and Chico and the Man, really like? Did some newspaperman really bring his drapes from home to be dry-cleaned at one of the TCA hotels? And did all that crazy stuff really happen the time Larry Hagman threw his Hollywood home open to the press?
The good news, of course, is that Jim may finally be in a place where he can talk all he wants to Cary Grant, Lucille Ball, Ricardo Montalban, Buddy Ebsen, Ann Sothern, Lorne Green or even new arrivals Cloris Leachman and Cicely Tyson. Condolences to his family, friends and readers.