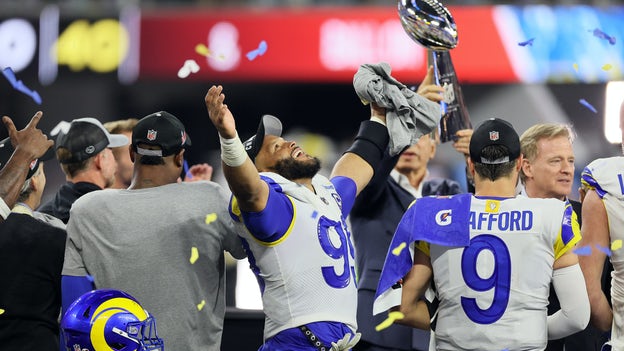 A tight, exciting game capping one of the best NFL playoffs runs ever helped Super Bowl LVI reverse the downward ratings trend in recent years of TV's biggest draws.
In Canada, the 2022 Super Bowl, won in the dying minutes by the Los Angeles Rams over the Cincinnati Bengals, attracted an average audience of 8.1 million viewers across CTV, TSN and RDS according to preliminary Numeris data. That will easily make the Super Bowl, once again, the most-watched show of the year in Canada.
That soared to 11.4 million at 8:21 pm ET during the halftime show, featuring Dr. Dre, Snoop Dogg, Mary J. Blige, Eminem and Kendrick Lamar plus a surprise upside down apprearance by 50 Cent.
Sunday's tally was up over what CTV drew in 2021, when close to 7.8 million Canadians watched the game. That year, TSN alone accounted for 1.6 million viewers, with another 1.12 watching in Quebec on RDS.
In the US, Super Bowl LVI drew more than 100.2 million viewers according to Nielsen data from NBC and Telemundo. Around 99.18 million watched on the linear network alone.
That is well up from the 96.4 million Americans who watched the previous Super Bowl a year ago on CBS between Tampa Bay and and Kansas City – the least-watched in two decades.
More data is expected to add to the US total. There are still viewers to count watching the game on the streaming service Peacock and other digital platforms.
Still, this wasn't the most-watched Super Bowl ever. The last time NBC hosted the game, in 2018, Philly surprised the New England Patriots 41-33. NBC's tally that year was 103.4 million, which at the time was a nine-year Super Bowl low.
NBC switched to Olympic coverage following the game, but not as fast as CTV switched to their new homegrown comedy Children Ruin Everything. The initial number for that placement is not currently available but we're working on it. Children has already been renewed for a second season.
That move should double or triple the Toronto-based sitcom's usual audience, which has yet to crack Numeris's weekly English Canadian Top-30 list of most-watched shows.
Last year, CTV tried to give a similar boost to a Canadian made series, the feel-good (and poorly titled) how-to series Holmes Family Effect. In the coveted post-Super Bowl slot, it drew 1,022,000 viewers – less than Global pulled without any significant lead-in (but with a simulcast) of the series premiere of The Equalizer starring Queen Latifah at 1.5 million viewers.