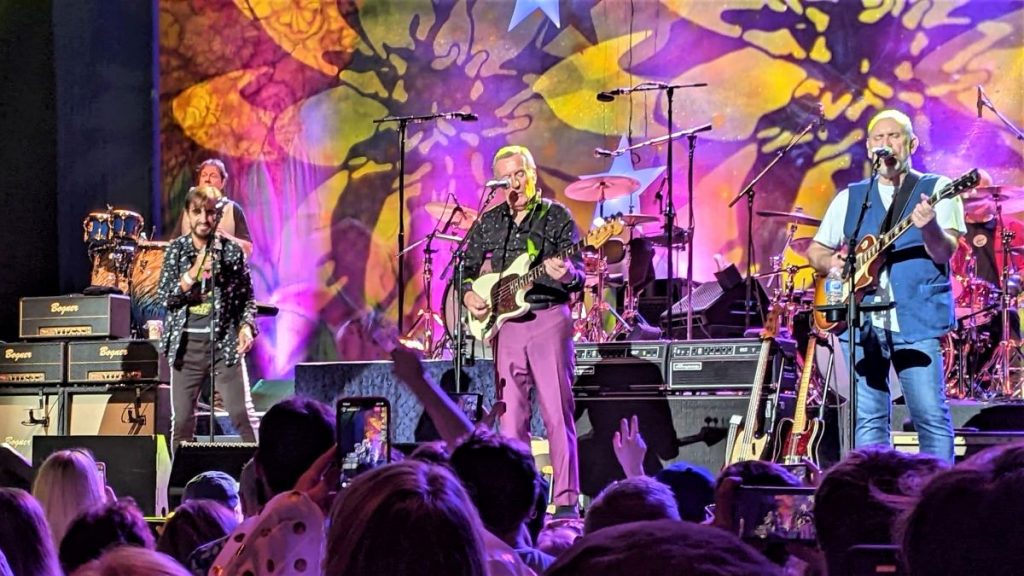 Toward the end of Friday night's first of two sold out shows at Casino Rama, many un-masked fans who were seated way in the back of the 5000-seat auditorium rushed down toward the stage.
"Two rules," cautioned Ringo Starr, who shows no sign that he will turn 82 in July. "You can't breathe on me and you can't touch me."
While he was probably only half-joking, nobody can touch Ringo when it comes to cheating Father Time. The former Beatles drummer bounds on stage, rips into several rock 'n' roll standards (the two hour-plus set opened with "Matchbox") and just generally looks and moves like somebody half his age. He's sporting a new, shaggier 'do these days, and unlike many of the fans at Friday's concert, his head is a grey-free zone.
Ringo also continues to sound like Ringo as he takes the lead on several Beatles hits from the '60s and solo work from the '70s, including "It Don't Come Easy," "I Get By with a Little Help From My Friends," "Act Naturally" and "Photograph." Not that his vocal range was ever operatic, but unlike some other touring rock legends, Ringo continues to find his register.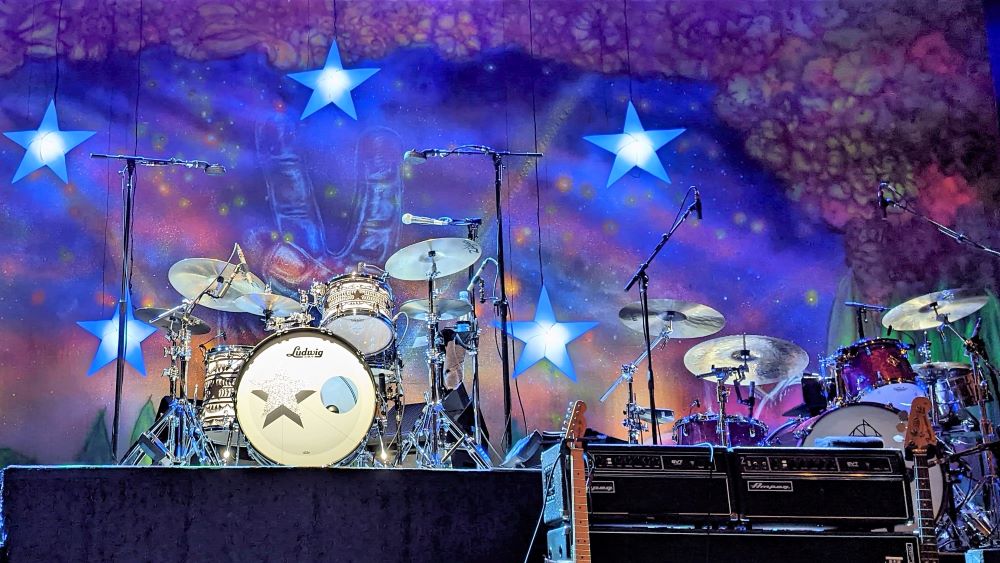 The Fab drummer worked a few of his lesser-known solos into this new repertoire, including the John Lennon-penned raver, "I'm the Greatest" (from the 1973 "Ringo" album) and the raunchy early-Beatles fave, "I Wanna Be Your Man."
One song he could drop: "Boys." Why was Ringo ever singing about boys? It doesn't make any more sense in his eighties.
This edition of Ringo's "All-Starrs" includes musicians from several hit bands, including Toto guitarist Steve Lukather, Men at Work frontman Colin Hay, Toto multi-instrumentalist Warren Ham, acclaimed session drummer Gregg Bissonette, Average White Band bassist Hamish Stuart and white-haired rock god Edgar Winter.
Ringo, therefore, has plenty of help from his friends. A few of them are still rocking in their seventies, including Winter, at 75 and Stuart at 72. Both have played with Ringo on past All-Starr bands. Lukather is 64. At 62, Bissonette is the kid in the group.
A few, to be frank, are no longer at their vocal peak. (To be fair, it's taking me twice as long to review this than it used to.) As a result, the All-Starr set list includes a few mainly instrumental numbers, including Winters' "Frankenstein." This is where the lanky Texan straps half a piano around his neck, and lurches all over the stage while making the instrument wail. He also plays sax and drums on the number. Winters' freaky musical dexterity is astounding, but this is a lot to ask a 75-year-old to sustain through 22 road shows over the next few months.
Another trim I'd make: cut "Cut the Cake," from Stuart's Average White Band's repetoire. It is fun for about 30 seconds, but it also draws attention to the band's vocal limitations.
On the other hand, Colin Hay — who turns 69 next month — can still hit every note on "Who Can It Be Now," and "Down Under."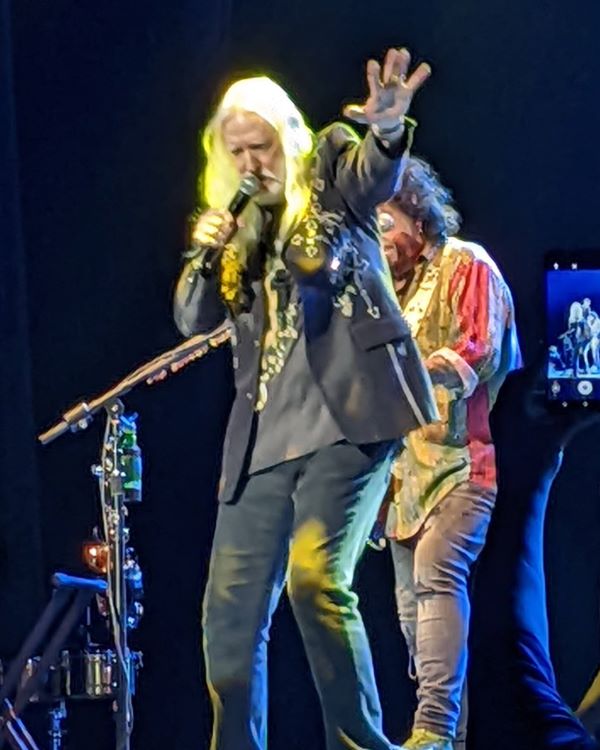 I'd cut one other song and this will not please Ringo's die-hard fans: "Yellow Submarine." Yes, we know all the words. Just the same, enough with that song.
During the concert, Ringo does duck out for about 20 minutes, skipping "Frankenstein" and one or two other songs. Blood transfusions? Whatever he's doing, I want some.
He barely references his former Beatles band mates, sneaking a "Hare Krishna" salute into "It Don't Come Easy" — his way of acknowledging that George Harrison wrote much of that song. He also points out that two guys named Lennon and McCartney share a songwriting credit with him on "What Goes On."
There are no film clips of The Beatles at a Ringo show, or even still photos projected on screens. Ringo once called an early solo album "Sentimental Journey," but he doesn't take fans on one in 2022. The on-stage graphics are trippy and colourful, with plenty of flowers and peace signs.
There is also no moment when somebody says that dreaded phrase, "Here's something off our new album." Starr could easily have plugged something off his latest EP, but instead gave fans exactly what they came out to hear.
Those fans were all over Rama and Orillia this weekend. At the tremendous restaurant we dined in Friday night, The Common Stove (highly recommended), patrons at several tables were All-Starr band bound. At the Bed & Breakfast we stayed in, Cavana House (also recommended), another couple had tickets to the Casino Rama concert. Seeing Ringo gave the woman a Beatles trifecta; not only had she seen McCartney a few years ago in Hamilton, Ont., at 15 she won a radio contest to see John Lennon and Yoko Ono as part of the fabled, "Live Peace in Toronto" concert at Varsity stadium in 1969.
What we all saw at Rama were several skilled rock veterans pushed off stage by a pandemic who were thrilled to be once again rockin' through the oldies. That might have been the highlight of the concert: to see how happy playing before people was making these famous musicians.
Kudos also to the roadies. Several members of this band play different instruments. Lukather, for example, trades his lead guitar for a bass at one point to back up Stuart. Ham contributes on everything from keyboards, sax, flute and even a harmonica. All the instruments are seamlessly tuned and traded back-and-forth throughout the show.
The tour will continue Saturday night in Ontario at Casino Rama, the fifth time Starr has launched a tour from this venue an hour-and-a-half north of Toronto. For other cities on the schedule, follow this link.