I kid you not: I was too young to have seen Jack Paar in his prime as host of The Tonight Show.
I was born in 1957, the year Paar took over Tonight from Steve Allen and made it his own for the next five years. With the show starting around 11:15 p.m., this was way, way past my bedtime.
Forty years later, in 1997, I knew enough about him to interview him just as PBS was airing an American Masters' salute to the Ohio native. Click on the blue and white arrow above to listen to that conversation as a "From The Vault" special up now at brioux.tv: the podcast.
A good friend of mine is just that much older and has vivid, first-hand memories of Paar: Father John Croal. I've known the good padre for many years. A film buff, he was once also a 16mm film collector, until he gave me all his Laurel and Hardy reels and many features, including classics such as "King Kong," "Going My Way" and several Marx Bros. titles.
This must have had something to do with an oath of poverty. For me, parting with a 16mm film is a sin!
In any event, Fr. John, who grew up close to the US border across from Buffalo, NY., was fortunate to be part of an early TV household. He even has memories of watching Howdy Doody in 1948 on Buffalo affiliate WBEN.
By 1957, therefore, he was old enough to stay up for Paar. Thank goodness he did; here are his memories: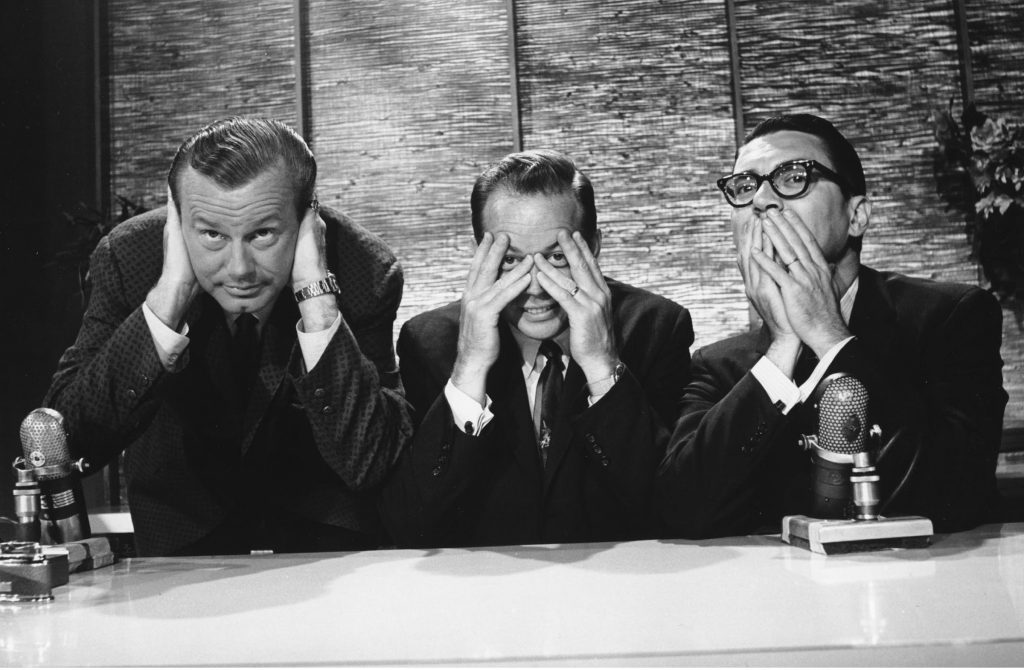 FR. JOHN: I watched Jack Paar every night for five years. Literally. To hell with being awake for classes. The first year or two were live. Tape came later. The live shows were incredible. Anything that could happen did.
I did witness the night he walked off and Hugh Downs took over. NBC censored him for the WC joke. The audience members were calling out "No Jack". Crazy. He pouted for a while then came back. Hugh Downs was a terrific partner. Dry humour, smart and a quick wit. Too bad the tapes were erased. Gotta hand it to NBC. They did a lot of that.
Downs was clever. Paar once said, "ask Hugh Downs what time it is and he'll tell you how to build a clock".
Paar had an amazing stable of regulars – Dodie Goodman, Genevieve, Alexander King (one of the best), Pat Harrington, Jr. who for a long time incredibly passed himself off as immigrant Guido Panzini, Elsa Maxwell (Elsa, your stockings are wrinkled – I'm not wearing any), Mrs. Miller in the audience and of course Cliff Arquette as Charlie Weaver.
Charlie was THE best of all. Started every appearance with A Letter from Mamma. "Things are fine in Mount Idy". Hilarious. I used to have several published collections of the letters. Wish I still had them. They were brutally funny. He usually appeared after a visit to Hurley's Bar in the RCA building. Many of the regulars did. Charlie was at his best when a bit tipsy. His appearance as Santa Claus on a swing one year was unforgettable.
Paar's opening theme song was one he wrote – I M 4 U SIM SIM. The closing was "Everything's Coming Up Roses" from GYPSY. Jose Melis, a Cuban, was his orchestra leader. I witnessed the extraordinary show live from Cuba immediately following the Cuban revolution with his interview with Castro. The first ever interview. Hard to believe. Jose got to lead the Cuban Symphony.
His last show was a bit sad. He finished a bit early so we went through ten minutes of "Roses". He did return on his hour-long specials. They were also fine. But not like the old days."
Fr. John also has memories of watching Steve Allen – also featured on the podcast – when that Tonight Show pioneer was hosting a Sunday night series in the early sixties. He points out that Gabe Dell – one of Allen's extraordinary "Man on the Street" interviewees – was once also a member of the Dead End Kids and the Bowery Boys. Another Allen regular, Dayton Allen, was a vital part of those early Howdy Doody kiddie show broadcasts.
"He did voices," recalls Fr. John, "among them Mr. Bluster and Flubadub and operated puppets. He was also Ugly Sam, Lanky Lou, Pierre the Chef, etc. On Allen he created the then catch phrase "Why not?" The last time I saw him was in a small part in Francis Coppola's 'The Cotton Club' in 1984."
Sounds to me that, when it comes to early TV memories, Fr. John could easily have played one of Steve Allen's favourite stock characters: Mr. Question Man.