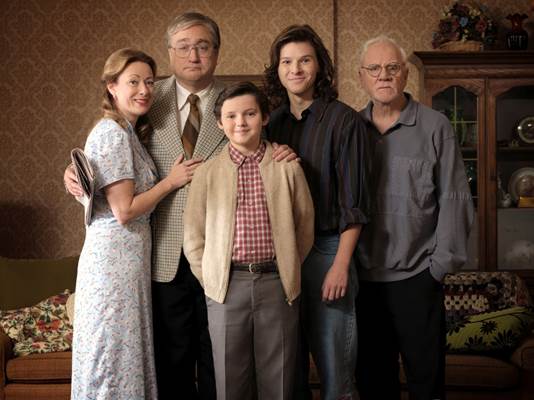 Here is something I've been sitting on for months: the CBC sitcom Son of a Critch is about to join an American network schedule.
The St. John's, Newfoundland, based series, currently on production on a third CBC season, will debut on The CW this summer.
In our podcast episode from January of this year, Brad Schwartz, President of Entertainment at The CW, made it clear that he would be taking a close look at Canadian comedies as he took on the daunting task of filling a depleted schedule.
Back when he was programming the US cable service Pop, Schwartz hit gold when he imported CBC's Schitt's Creek. That one series drove Pop to a third place finish, behind only HBO and Netflix, when it came to Emmy wins in one season.
One of the Schitt's Creek executive producers, Andrew Barnsley, is also an EP on Son of a Critch. The series also boasts executive producer Tim McAuliffe (The Office, Last Man on Earth) as well as star/executive producer Mark Critch (This Hour Has 22 Minutes). There's also a fella named Malcolm McDowell among the cast.
"Andrew and I had a ton of fun and success together on Schitt's Creek," Schwartz was quoted as saying in the release, "and I can't wait for everyone to see his newest hilarious and heartwarming series."
Added Critch:  "When I was a young kid watching American TV in the '80s, I never dreamed that one day my own story would be beamed back over the border."
The series, which may remind some viewers of The Wonder Years, is based on Critch's memoir of growing up in Newfoundland. The CW deal will start with the 13-episode first season. I've been a fan since the very beginning. Set in the mid-'80s, Season Two was even better than the first, a rare trick in TV these days.
I was dumbfounded, therefore, when Son of a Critch failed to get a nomination for Outstanding Comedy series at this year's Canadian Screen Awards. Even the shows 12-year-old lead, Benjamin Evan Ainsworth, was shut out of CSA recognition.
Sometimes, it seems, Canadian shows are punished when they actually attract a large number of viewers. No matter; in Canadian television, there is no greater reward than an American network pickup.