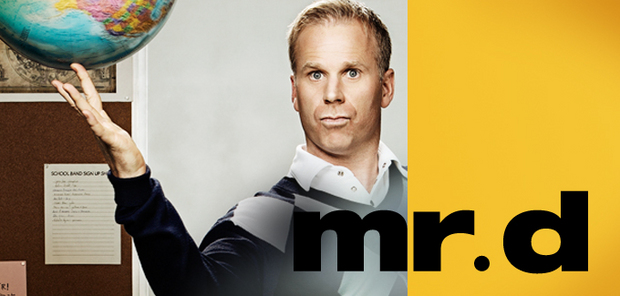 Turns out Mr. D graduated to a fourth season thanks to Mr. R.
As in Rogers. In one of the more surprising revelations at Rogers' Tuesday upfront, it was learned that the private broadcaster–which got into bed with its skates on in the deal to keep Hockey Night in Canada on CBC for the next four years–has also made a deal to extend the CBC sitcom.
Word is CBC, reeling from funding cuts, was this close to shutting down Mr. D after a shortened third season failed to revive ratings. The Halifax-based sitcom about a nincompoop of a teacher–played by Gerry Dee–had fans over at Rogers, however, and a deal was made to invest in a second window on the show. Mr. D, therefore, will return to CBC's schedule with 13 new episodes this fall. In 2015, the series will begin airing on City.
Not a word of this arrangement was breathed last week at the CBC launch.
"Delighted and thankful to CBC and Rogers on working together to make Season 4 of @mrd_on_cbc happen," Dee tweeted Tuesday night. "Will air on @CBC and @City_tv in 2015."
Besides his sitcom, stand-up comedian Dee has a profile as a sports personality, playing comedy relief roles on Sportsnet broadcasts. Rogers, of course, is going through a massive sports programming makeover.
A Rogers executive suggested Tuesday night at the Rogers' upfront that there could be more CBC content sharing deals coming up.