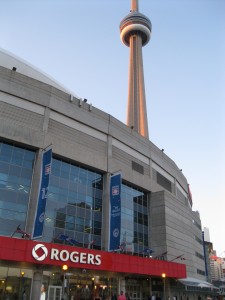 There was plenty of room for the 1600 ad reps, TV beat writers and network officials attending Tuesday night's 2014 Rogers Media upfront inside the cavernous Rogers Centre. The upfront just happened to coincide with the 25th anniversary of the Centre, originally named SkyDome when it opened in 1989.
The Toronto sports shrine was a fitting home for the Rogers bash as the network continues to aggressively remake itself into a sports broadcaster. There were few TV stars in attendance, with sports personalities such as Montreal Canadiens defenceman P.K. Subban being perhaps the biggest name to share the stage with Rogers executives. Coaches Corner duo Don Cherry and Ron Maclean were shown on the stadium's giant monitors along with Blue Jays pitchers. The Jays standing atop the American League East was also heralded. Rogers Media president Keith Pelley even announced that everyone attending the upfront was getting a pair of tickets to next Monday's Blue Jays game.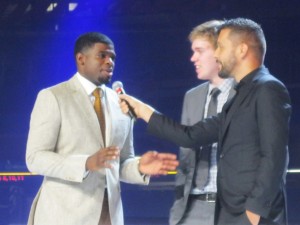 Subban was interviewed on stage by former CBC personality and Rogers' new Hockey Night in Canada host George Stroumboulopoulos. Joining them was some kid from the Erie Otters.
Rogers V.P. Hayden Mindell did cue clips from the few imports his network bought at the recent Hollywood Screenings. Black-ish, a new sitcom, got a subdued response from the ad crowd, as did the nerd drama Scorpion. There was more enthusiasm for the mid-season drama Backstrom from Bones' showrunner Hart Hanson. Attempts to get the crowd interested in City's reality pick-up Utopia also was met little enthusiasm.
To be fair, it was a big room. The Rogers brass wisely kept their pitch under an hour and once the bar opened and the DJ cranked up the volume, the party started in earnest.
There was a mini midway of games and snax within staggering distance from the bar. You could take shots at a hockey net, pitch balls and get clocked, and pose behind the Sportsnet desk. Rogers brand extensions such as The Home Shopping Channel, Hello! Canada magazine and mobile phone charging stations were all colourfully represented. Pelley himself tested his arm at the pitching lane.
Certainly Rogers two pronged strategy is intriguing. The $5.2B dice roll over NHL hockey for the next 12 years is a gutsy move. The lack of buzzy show buys was evident, but if there was ever a year to keep your hands in your pockets in Hollywood, this may be the year. Paired with Rogers' exclusive content deal with FX, the Canadian broadcaster is well stocked with content viewers want and will watch heading into an eventual a la carte future. How this all translates into ad dollars now is Rogers most immediate challenge.