BEVERLY HILLS, Calif.–A terrific little series that snuck on and off HBO's schedule last winter was Getting On. Based on a British series, the dark comedy looks at life in a geriactric wing of a Long Beach Hospital.
The good news is that Getting On is coming back for a second season. Laurie Metcalf, Alex Bornstein and Niecy Nash star as the unit's over-worked nurses and doctors. Anyone who has witnessed elderly care centres first hand will recognize these people, perhaps with a shudder.
One of the actors in the background was a supporting player on the '60s comedy classic The Dick Van Dyke Show: Ann Guilbert.
Guilbert is best known for playing Rob and Laura's nosy next-door neighbour Millie Helper. She's listed as 86 on Wikipedia but the stars and producer at thr HBO session suggested she might be closer to 90.
"She still smokes and drinks," marveled Bornstein. "Shes really funny this year," added EP Mark Olsen. Six new episodes begin airing in November on HBO and HBO Canada.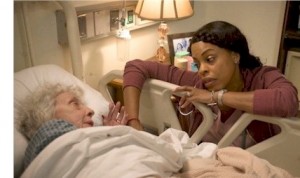 Guilbert has always worked. She was hilarious as Fran's big-haired grannie from Queens on The Nanny and has turned up in recent years in episodes of Modern Family and Curb Your Enthusiasm.
On no other show, however, has Guilbert had to deal with being blamed for leaving a feces on a waiting room chair. Other guest stars this season on Getting On are Betty Buckley and Jean Smart. Guilbert and others have taught the cast that "age doesn't curb your talent."
Bornstein, 41, got a kick out of working with these veterans for several reasons. "You really feel f***ing young," she told critics attending the summer TCA press tour. "I'm a hot piece of ass. I'm really enjoying that aspect."