STUDIO CITY, Calif.–One of the delights of attending set visits on press tour is the opportunity to chat with some of the great character actors on television today. Such an occasion was the bus ride Wednesday to CBS Studio Center (generally referred to as "Radford") and the set of Brooklyn Nine Nine. The Fox cop comedy stars former SNL player Andy Samberg, Andre Braugher, Terry Crews and several others. They were sitting on directors chairs before a large cityscape backdrop on the sound stage when reporters arrived. The series was not a ratings hit in its first season but was a favourite with many critics and earned a couple of Golden Globe awards.
After the formal Q&A, reporters were invited to tour the police station set and grab one-on-one time with several cast members. Samberg and Braugher were mobbed and I knew I'd get another shot at Terry "President Camacho" Crews Saturday (he's hosting the TCA Awards). Dodging those scrums, I sat in with Dirk Blocker and Joel McKinnon Miller, two actors bumped up from "recurring" to "regular" in Season Two.
Blocker plays clueless Det. Michael Hitchcock. Miller is his buddy, Det. Norm Scully, who is known for his great coffee.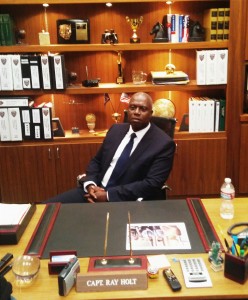 Miller is hard to miss in his flattop haircut. He was on Big Love and for 20 years before that popped in and out of just about any TV sitcom you can name. I asked him if his haircut was any kind of homage to the late Frank Sutton who played Gomer Pyle's long-suffering Sgt. Carter on that '60s sitcom.
"I loved that show," said Miller. His hairstyle, however, came by accident. In 1996, he was shooting a military-based movie that went straight to video and asked the folks there to give him a flat top haircut. When he got home, his agent told him to stick with that look.
Miller actually went to college to be an opera singer before joining John Houseman's acting school and touring in Shakespeare productions. He came to the West Coast from New York in 1991.
He was making small talk with Samberg between scenes and happened to mention his operas days. Unbeknownst to Miller, Samberg started texting the producers that they had a singer in the house. Comes the Thanksgiving episode and Miller got wrangled into belting out an aria or two. Critics who assumed Miller's voice had been dubbed were surprised and amazed.
Blocker grew up on Hollywood sound stages as the son of Dan Blocker, unforgettable as Hoss Cartwright for over a dozen years on Bonanza. Dan Blocker was an immensely likable TV presence, so much so that when the 43-year-old actor died of a heart attack following surgery in 1972, the popular western only lasted one more season.
Blocker says Bonanza shot on the Paramount Studios lot in the early days, migrating to Warner Brothers in its last few years. Going to the set "was the best way to hang out with my dad," he recalls. TV schedules were different back then. The longer seasons and shorter daily hours kept the stars on sets almost 50 weeks out of a year.
Dirk was born just a few years before Bonanza started its long run. He says Bonanza had a "joyful, family atmosphere." The wardrobe people used to fuss over the lad, dressing him up in costumes. "They would take me and make me up like a bad guy," he says.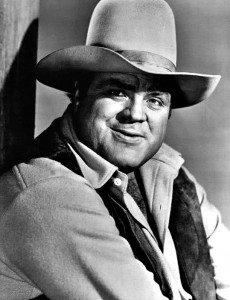 One time, Dan Blocker's co-star Michael Landon (Little Joe), who was directing an episode, spotted Dirk all dolled up in costume. "That's too good," said Landon, who picked the lad up and plunked him down in a bar room scene. "He set me in a bar among all therse girls dancing and guys drinking," says Blocker.
The 56-year-old has spent 40 years in the business, starting as a 16-year-old on shows such as Marcus Welby, MD. He's had guest roles on everything from ER to Night Court to M*A*S*H and CHiPs. He was a regular on Robert Conrad's Baa Baa Black Sheep.
He's having more fun on Brooklyn Nine-Nine than anything he's ever done. "This is the job I've been looking for for forty years," says Blocker. "I'd watch it if I wasn't on it."