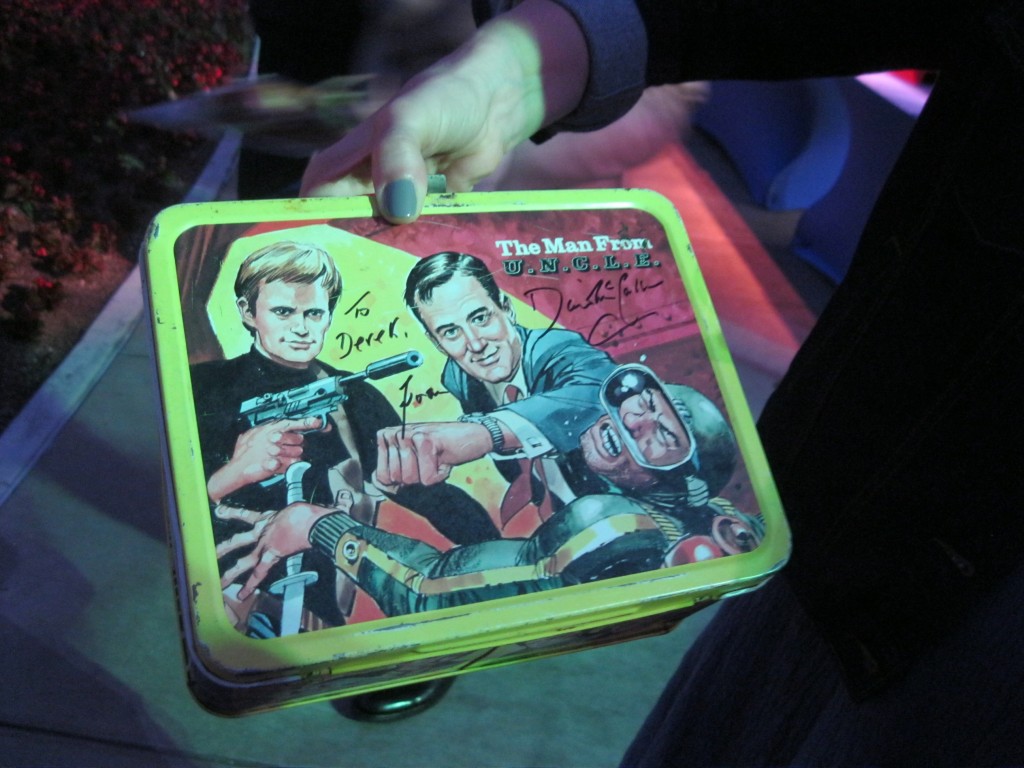 BEVERLY HILLS, Calif.–Saturday is the 30th annual TCA Awards but you can hand out one award now–CBS wins for Best Press Tour Party Venue.
Critics have been shuttled to the Pacific Design Centre before, but always to an event space on an upper floor. The sweeping outdoor plaza level provided plenty of space for red carpet entrances, trendy food trucks, critics, reporters, talent, agents and network executives.
One of the first stars I spotted was the great David McCallum, starting his 12th season on NCIS. I wrote a CP feature on McCallum last summer and really enjoyed speaking with him about his life and career. The man is 80 now and looks years younger,keeping young with grandkids and family back in New York.
A CBS publicist brought a cool piece of TV history to the party–a Man from U.N.C.L.E. lunchbox. McCallum signed it. That, my friends, is now eBay gold.
McCallum, as Boomers will no doubt remember, played Russian-born spy Illya Kuryakin in the 1964 – '68 NBC series. The Glasgow-born actor was James Bond cool 50 years ago and today he is on the No. 1 show in the world.
He's ever grateful for the hand life has dealt him. But if you want to drill even deeper into McCallum's box seat on pop history,  listen to this: his father, orchestral leader David McCallum, Sr., was for many years the principal first violinist of the Royal Philharmonic Orchestra. He was an admired and oft-recorded musician but for Beatles nuts like me, he was also one of the guys in the background swelling the long fade out on the band's biggest selling single, Hey Jude. True!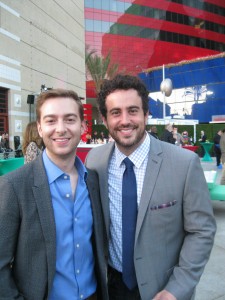 CBS packed the party with stars from the main network as well as sister nets Showtime and The CW. I spoke with Liev Schreiber, Will Arnet, J.B.  Smoove, Matt LeBlanc, Phil Keoghan, Scott Bakula and CBS CEO Leslie Moonves, as well as several showrunners.
One of the first actors I ran into was a fellow Canadian: Seed star Adam Korson. The comedy ace and his delightful Canuck co-star Carrie Lynn Neales were working the room to promote the migration of Seed to The CW where it premiered earlier this week. Last I saw Korson he was headed away in a CBS  limo or a helicopter or something, Mr. Big Shot.