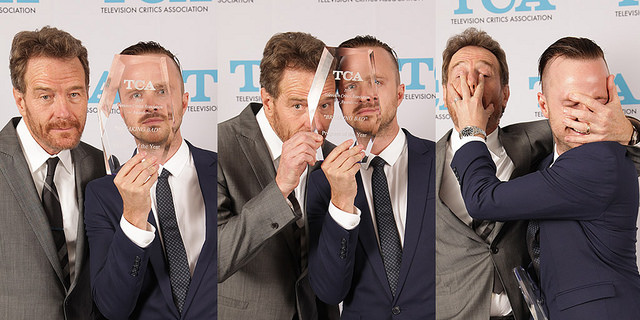 BEVERLY HILLS, Calif.–Who turned out the lights? That's what everybody was asking shortly after Saturday nights's 30th annual TCA Awards. It was as if once all the stars left from the post awards party, they took all the electricity with them.
With elevators out of commission, the party simply moved downstairs to the dimly-lit Trader Vics' bar. There, critics pal John Solberg and his FX credit card made beer and wine magically appear. It was a cool little camp fire ending to a memorable night.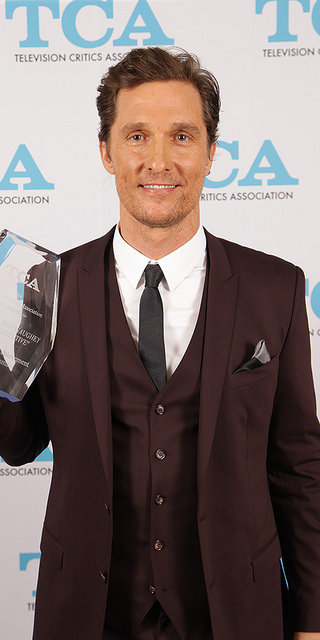 Earlier in the evening, when the lights were still on, there was plenty of star power in the house. Matthew McConaughey was on hand to accept his Best Actor Drama award. "You guys and ladies did shine a light on our show," said McConaughey, sparking a theme repeated throughout the night.
Julia Louis Dreyfus took the Best Actor Comedy prize and thanked critics with, "I love being criticized."
Fox's COSMOS took the Best News and Information award. The opportunity to make reference to Uranus was not seized in either the set up or the acceptance speech, the biggest drop-the-ball moment of the evening.
True Detective took Best Miniseries and The Good Wife won Best Drama. Best Comedy was a tie between Veep and Louie. Veep creator Armando Iannucci–an Italian living in Scotland skewering American politics–killed with a very funny thank you speech.
Critics selected RuPaul's  Drag Race as their favourite Reality Show, a head scratcher for some of us as well as the folks from The Amazing Race. They were sitting in the room and probably feeling like they'd  missed a checkpoint.
It was disappointing to see just one young lad–32-year-old Weekend Update anchor Colin Jost–accept the critics' Heritage Award for 39 seasons of Saturday Night Live. After all, as Jost pointed out, there have been 140 cast members over the years 220 writers and 500 hosts. Dozens should have been on stage, especially Lorne Michaels. Three former SNL hosts were in the house: McConaughey, Drefus and Bryan Cranston. Jost completely rose to the occasion, however, with a smart speech. Born years after the series began, he relayed something Michaels once told him about how critics stopped loving the show after the first cast moved on. Nobody liked Arthur Miller's follow up work after Death of a Salesman, Michaels told Jost, and then when Miller died one critic said even Salesman wasn't that great.
The great Jim Burrows won for Career Achievement and paid homage to the man who gave him his start, Grant Tinker. The producer and programming executive was honoured at the very first TCA Awards 30 years earlier. Burrows repeated the old saw about how Cheers ranked 75th out of 74 shows" its first season and thanked critics for saving it. The master TV director said he didn't always agree with what critics wrote, but added–waving his trophy–"I agree with this."
Program of the Year went to the only real choice–Breaking Bad. Vince Gilligan was humble and Cranston hilarious in their thank you speeches. Since so many had already thanked HBO during the evening Cranston thanked them too–for turning his show down.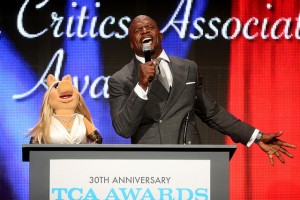 Fun for critics was seeing past TCA presidents Dusty Saunders and Ron Miller return to present awards. Two top print guys from a time when the TCA press tour was almost  exclusively made up of writers on the TV beat, neither sounded like they'd missed a step. The current members who presented on stage all shone, with past president Dave Walker of the New Orleans Times Picayune especially droll and dry in his set up to Veep. It's a tough room to step up and make funny when you look out and see some of the biggest names in television, so hats off to everybody.
Also fun was the three minute clip reel of past TCA Award show moments as well as the slide show before the awards showing many of us back in the day. Kudos to TCA Veep Amber Dowling for pushing for the extras.
Host Terry Crews showed he can sing as well as do shtick. "President Camacho" was joined by surprise guest-host Miss Piggy, who seemed right at home in a room full of hambones–although, as my table mate Roger Catlin observed, it was unclear exactly how she was helped by the TelePrompTer.