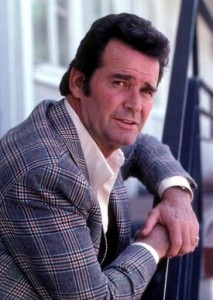 There will be dozens of James Garner stories shared over the next few days. Here is one from the wings.
About a month ago I was on the phone with Bill Daily, neighbour Howard from The Bob Newhart Show. The great '70s sitcom is now available in a complete DVD boxed set from Shout Factory.
Daily, now 86, was one of those guys who never wore out his welcome on I Dream of Jeannie, that Newhart show or even as a player on Match Game.
Because he played a co-pilot on Newhart, the actor often got preferential treatment on airplanes. At some point in the '60s, he was jetting from Los Angeles to New York to be a guest on The Tonight Show starring Johnny Carson. Daily's talk show appearances, by the way, date back to the very early '50s when he was a musician who sat in with Milton DeLugg and the band on Broadway Open House.
Daily gets on the plane and there are no other passengers. "It was way back before every seat got booked," he remembered. There are five beautiful young stewardesses, as flight attendants were called back then, fawning all over him. Daily is loving it.
Then, at the last minute, Garner gets on the plane. He, too, is booked on Tonight.
That was it for Daily and his harem. "I never saw the girls again for the next six hours," He says. "It taught me a lesson on stardom I never forgot."
Garner passed away Saturday in Los Angeles at the age of 86. The last time I saw the actor on press tour was when he was rushed into the cast of Eight Simple Rules after the death of John Ritter. Either that or it was when he was a wonderful voice of God in the clever, albeit short-lived, animated sitcom God, the Devil and Bob. Garner, who was a heavy, lifelong smoker, was forced out of acting toward the end of his life due to poor health.
Bill Carter of the New York Times just relayed to me a story Garner told reporters on a press tour 20-odd years ago. Garner, of course, had two smash hits on television: the late-'50s western Maverick and The Rockford Files. Apparently, Glen Larson, a noted TV producer and an associate of Rockford creator Stephen J. Cannell,  allegedly screwed Garner out of monies owed the actor. Garner apparently also had a producing stake in the series.
According to Carter, the story Garner told critics was that after failing to sort out a deal, he drove up to Larson's house and knocked on the door. When Larson opened the door, Garner punched him in the face and knocked him out cold. (A version of that story is in Garner's 2011 autobiography The Garner Files: A Memoir.)
The flawed and complex anti-hero Garner played in Rockford was a template for many, many TV characters to come and continues to inspire TV showrunners today. A picture of Garner as Rockford was taped to the door of the writer's room on The Republic of Doyle. House showrunner David Shore is a big Garner fan.
The rugged actor jumped from TV to film roles long before that was fashionable. He had a nice light touch in comedic roles such as Victor/Victoria and was equally at home behind the wheel of a sports car as seen recently on a TCM screening of Grand Prix (1966).
For a great obit on Garner, follow this link to The New York Times, which, among other things, has a wonderful anecdote about how Garner stumbled into acting in the first place.