If you hustle on over to the specialty channel Teletoon at Night Thursday, you can catch the North American TV premiere of Seth Meyers animated super hero comedy The Awesomes.
The series is a Hulu original.  "One feedback I get from Canadian fans most often on Twitter is that they can't get Hulu," Meyers told me when I spoke with him on the phone Wednesday, "so I just want to say to all of them I'm so happy you're finally getting the series."
Meyers gave me plenty of scoop on the series, which features the voices of many past and present Saturday Night Live players. Hulu has already ordered a third season.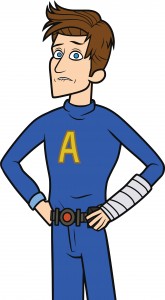 The show features Meyers as kind of a weenie super hero who steps up to take the reins of a "League of Justice" like super group after his famous dad, Mr. Awesome (voiced by Jimmy Fallon announcer Steve Higgins) retires.
He doubts he could have done a live action version of the show, although he agrees Patrick Warburton's The Tick was damn funny when it aired over a decade ago on Fox.
Read more about The Awesomes here at this feature I wrote for The Canadian Press.
I also asked Meyers for his thoughts on the passing of SNL legend Don Pardo.  Before moving on to Late Night, Meyers spend a near-record 13 years on NBC's Saturday Night showcase, several as head writer as well as Weekend Update anchor. (Only impersonator Darrell Hammond lasted longer.)
Meyers says you get hired at SNL, they give you an ID tag that gets you into 30 Rock, they give you an office and they tell you where to find your computer and printer. "It isn't until Don Pardo says your name that it finally sinks in that you work on Saturday Night Live.
"As incredible a moment as it was when he first said my name," Meyers continued, "I also made sure I was on the floor to hear it the last time as well. That always meant as lot to me."