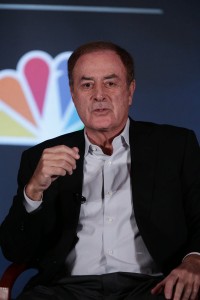 Time for Super Bowl XLIX. The all-important question: what's the over-under on Al Michael's age?
If you bet 70 that's the correct answer. The veteran play-by-play man calls his ninth Super Bowl as NBC takes its turn in the NFL showcase rotation. (NBC, Fox and CBS take turns broadcasting each Super Bowl).
The likeable broadcaster was at the recent TCA press tour and told reporters he was at the very first game, held at the old Los Angeles Colosseum in January of 1967. Michaels and his brother were there strictly as spectators. The stadium say nearly 95,000, and Michaels says almost 35,000 seats were empty!
Michaels watched last year's Super Bowl in Sochi, Russia, as he was preparing to cover the Olympic Winter Games. "About a hundred of us had gathered in the hotel lounge in Sochi with, I believe, one cocktail waitress," he recalled. The score was so lopsided he went to bed early.
Read more about the man Dennis Miller used to refer to as "Al Bino" here at this article I wrote this week for The Canadian Press.