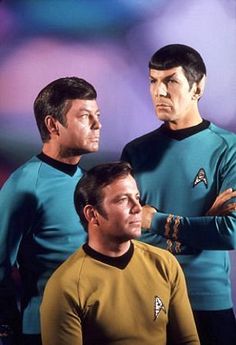 Sometimes when a famous TV personality dies, I get asked to talk about the person on the radio. I got a message from a producer today asking if I would speak about Leonard Nimoy. Star Trek's original Spock passed away Friday at 83.
Since the interview was for Arlene Bynon I quickly said yes. We chat every Monday at 5:46 p.m. on SiriusXM satellite radio.
I did feel like a bit of a fraud, however. I wouldn't want this to get out, but I've never been much of a Star Trek fan. I probably saw more of Nimoy later on Mission: Impossible. Hey–three thousand Twitter followers–come back!
Thing is, when I was in Grade Three or Four, I was just more into the Robot on Lost in Space than anybody aboard the Starship Enterprise.
I did remember, however, interviewing Nimoy once so I knew I had some sort of personal encounter to draw on. I couldn't remember exactly when, but it was so long ago Don Adams (Get Smart) was still alive because I remember interviewing him the same day.
Adams died in 2005, so more than 10 years ago.
I also remember speaking with Buzz Aldrin during that same TCA press tour. That stuck in my head because I remember thinking at the time that there was more of a fuss being made by the press over Nimoy–who played a guy from space–than the real life second man to walk on the moon.
I did the radio bit then dug into a box of old cassette tapes in hopes of finding the Nimoy interview. Found it–July, 1996, nearly two decades ago.
Written on the cassette cover: "Buzz Aldrin, Hasselhoff, Stephen J. Cannell, Barbara Bosson, Steven Bochco, Marlo Thomas, Leonard Nimoy, Eriq La Salle." Try finding those eight names anywhere else in a sentence.
What happened was I ran into Nimoy between sessions in a backstage hallway at what was then the Ritz Carleton in Pasadena, one of the home sites for the TCA. He struck me as tall and formal, almost professorial.
I can't remember why he was there or what he was promoting. I was still working for TV Guide Canada at the time. I seized the moment and explained to Nimoy that we were doing a "Favourite episodes" edition of the Guide and then I asked him something he must have been asked a billion times–to single out his favourite Trek hour.
He probably would rather have given me that pinched neck thing Spock would use to end conversations. Instead, a real pro, he took that very obvious question in stride and answered it with vigor. Fans of the series will already know the answer but here is what he said:
It's very hard to choose one–its like choosing among members of your own family, you understand that. There are a number that come to mind immediately.

One of the most beloved episodes–maybe the most popular of all time–was "The Trouble with Tribbles." And it was a charming story but really I don't think the best of Star Trek necessarily, it was just a very entertaining show. Very entertaining.

Great script that we did by Harlan Ellison called "City on the Edge of Forever." Also highly thought of. And Gene Roddenberry's best work was in a two-parter called "The Menagerie." I think that was really classic Star Trek.
My other Nimoy story really isn't mine, it belonged to Gene Trindl. The late, great photographer shot more TV Guide covers than any other shooter–over 200. One was of the three main Star Trek actors–Nimoy, William Shatner and DeForest Kelley.
I kept bugging Gene to write the stories behind the shots and have hours of the two of us yakking away on tape. When we got to the Star Trek assignment, Gene said he shot the three right on the Paramount lot. They were in full costume and makeup from the series.
DeForest Kelley (Bones), "was a little fidgety," said Gene. "I tried to treat then all equal, but you'll notice I put Shatner down in front."
He remembers all three were very professional and there was no diva behaviour that day. "When you get the three of them together like that, they can't do much," said Gene. "That is if you take control of them and don't let them get away from you."
Nimoy he put in profile, "so you can see the ears."
TV Guide never ran the colour shots. Instead, Gene made a black and white high contract print of the three of them and put a blue background behind it. Highly illogical, but very '60s.