HOLLYWOOD, Calif.–Ever watch TV with a thousand people? That's sort of like the experience of attending PaleyFest. The eight day festival–billed as "where TV Fans Get Their Fix"–concluded Sunday with screenings and cast panel Q&As featuring Jane the Virgin (available in Canada exclusively on shomi and in the U.S. on The CW) and FX's American Horror Story: Freak Show. Other shows saluted earlier included Modern Family, Girls, Homeland and Parks & Recreation.
The first thing you notice is how people are really into these events. Monday's 16th episode of Jane was previewed and squeals went up from the 1000 or so fans inside the cavernous Dolby Theatre on Hollywood Boulevard (home of the Oscars). Fans had paid anywhere from US$30 to $100 to see the stars in person.
You'll never meet a lovelier cast than this Jane gang.  This smart little comedy got a big lift from the Golden Globes, garnering the first nominations ever for a CW show, with star Gina Rodriguez winning. She and everybody else is so darn grateful and modest and very sweet.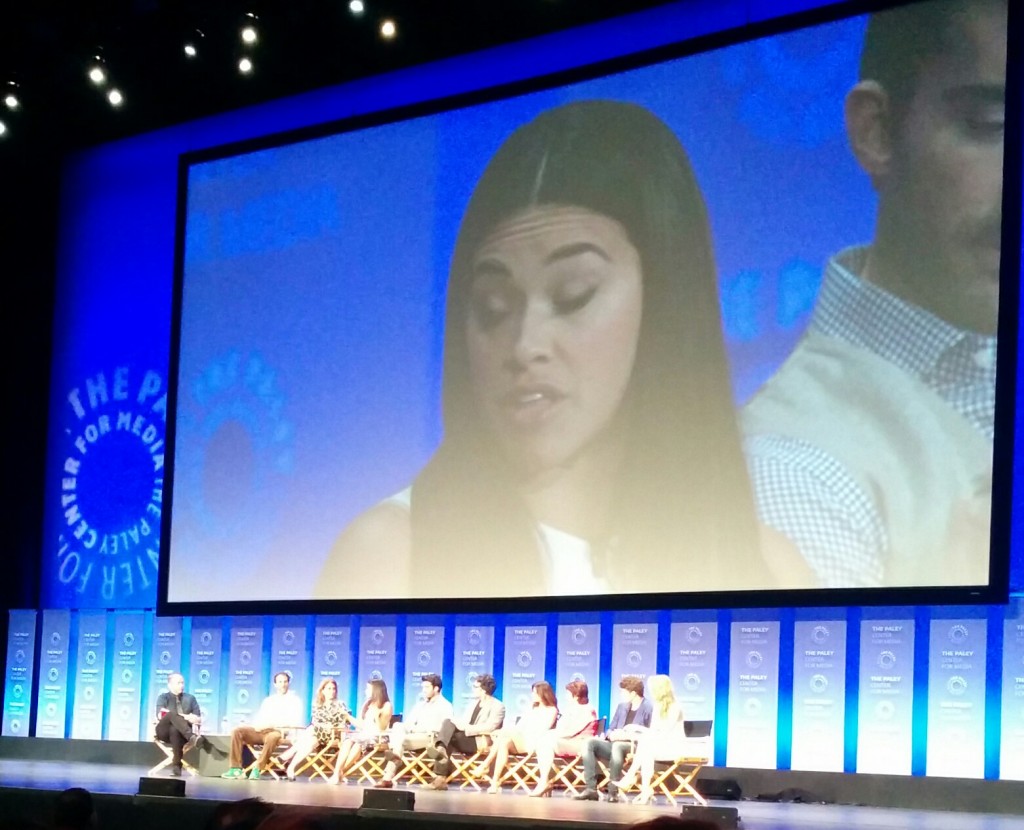 The episode screened was pretty winning, too. This is a clever show, an unabashedly romantic comedy heightened with a steady send up of the Telenovella formula. The narrator–voiced by Anthony Mendez–is over-the-top yet just perfect, a cool character all on his own.
Executive producer Ben Silverman–yes, the guy who briefly ran NBC's programming–gives all credit to the show's creator, Jennie Snyder Urman. She works so much storytelling into each episode, driving plot along with texts, modicoms and other on-screen goodies. She seemed to get a lot from the event, beaming as fans thrust Jane trade ads forward for her to sign after the session.
Some of the biggest crowd reactions were for Jaime Camil, who plays Jane's actor dad Rodelio. This guy is a huge star in his native Mexico. I had my picture taken with him during the most recent TCA press tour, posted it on Instagram and I'm still getting ten comments a day in Spanish. Hola!
He praised Rodriguez and told the very receptive crowd she'll win a real award in this very same Oscar room one day. Urman approaches her series as like a movie a week. It's interesting how feature films seems to be stalled when it comes to romantic comedies these days. Urman really makes the formula work on television, finding the funny in relationships, love and heartache but making the most of all the drama, too.
Ivonne Coll plays Jane's grandmother Alba and wanted fans to know she's not really a grandmother in real life. Like Rodriguez, she's proud of her Latin roots and spoke about how this series is a game changer for her community.
She got one of the big laughs of the day when she said, "We have to address that I am illegally here as an immigrant." She meant the character, Alba. Camil just hid his face in his hands as future seasons of the series flashed before his eyes.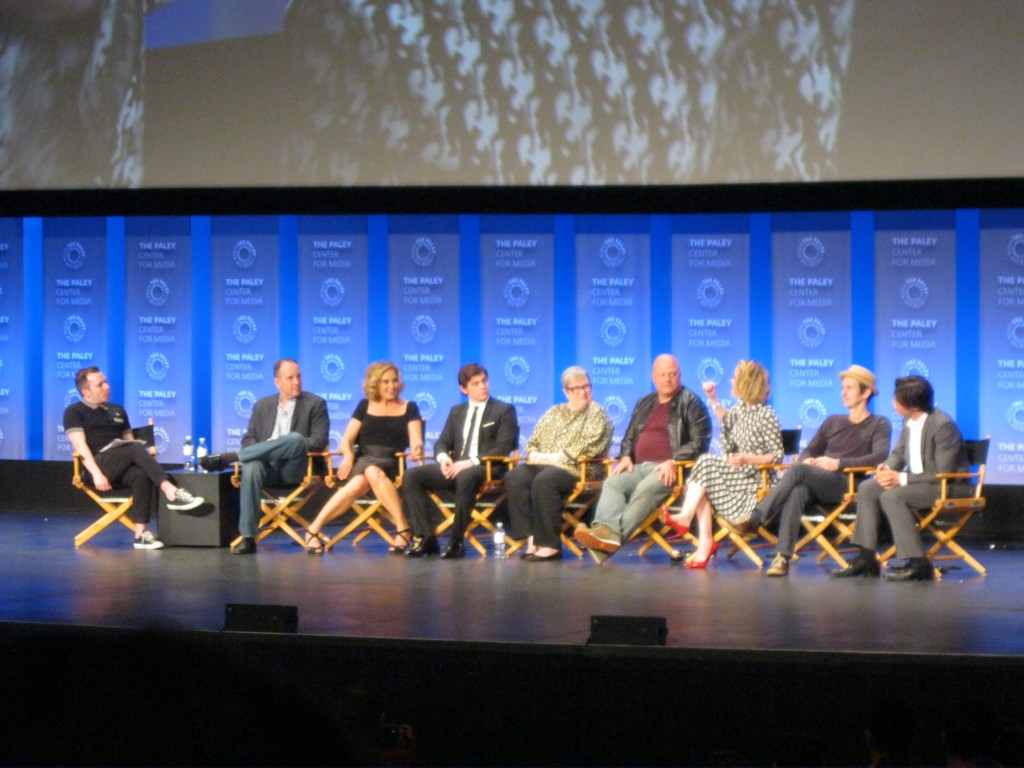 The evening event was a salute to FX's edgy AHS: Freak Show. Entertainment Weekly's Tim Stack moderated, although he was more like a lion tamer trying to keep a giddy cast in check. The biggest brat was Sarah Paulsen who kept burning Jessica Lange. Lange was asked point blank by Stack if she really was bailing on the series after four seasons. Much incoherent babbling followed with Paulsen and other cast members taunting Lange. Eventually it was determined that Lange did, in fact, mean business when she said four seasons was plenty, although she really did love playing the Freak Show boss the best.
Stack brought out two cast members from the upcoming fifth season, subtitled Hotel. Lady Gaga has been cast but was not introduced, a good thing because the many young fans in the audience–which spilled into the upper balconeys–would have screamed the roof off the dump. Ryan Murphy favourites Matt Bomer and Cheyenne Jackson were introduced as lead characters, a PaleyFest scoop and part of the new trend to tell fans first at places like Comic-Con instead of press conferences.