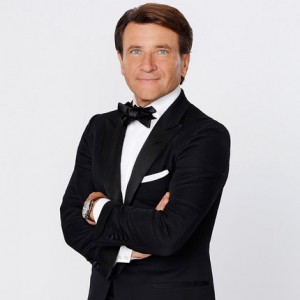 "I am now a professional dancer—words that I thought would never come out of my mouth. All my friends think I am nuts."
That's Robert Herjavec talking. The former Dragon and current Shark will add dancer to his C.V. when the 20th edition of Dancing with the Stars commences Monday, March 16 at 8 p.m. on ABC and M3.
I've interviewed the Toronto-based entrepreneur in the past, including a few years ago for a "Cars of the Stars" feature for CAA Magazine. The Shark Tank venture capitalist collects high-end, luxury cars as well as Ferrari's and Lamborghini's.
He's taking this whole Dancing with the Stars thing very seriously and has been training for months, "not dancing, but just getting in shape and I'm in the best shape I've ever been in my life," he told me last week on the phone from L.A. He'll be dancing with two-time Mirror ball champ Kym Johnson.
The 52-year-old started weight training after getting advice from past competitors such as fellow Shark Mark Cuban. "The feedback I got from a lot of people was that it's hard on your arms. Which you wouldn't think it would be, but you have to keep your arms in a certain position for a long time." He also says he's increased his cardio training "to a whole other level."
The other Canadian on Shark Tank, Kevin O'Leary, has been supportive, claims Herjavec. Still, their trash talk routine continues.
"I love Kevin, but I'm not sure I would think of Kevin in an athletic way—although he will tell you he's a great golfer, which he's not."
Among Herjavec's competition this season will be the latest Bachelor Chris Soules. The dude from the creepy hometown will be partnered up with defending champion Witney Carson.
Read more about Herjavec and DWTS in this feature I wrote which appears in Thursdays Toronto Star.