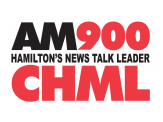 This week, AM900 CHML's Scott Thompson asks about my trip earlier this week to Nashville. I tell him about those Masters of Flip, Kortney and Dave Wilson–two Canadians who relocated to Music City in pursuit of country careers but who have become more savvy at buying, renovating and selling homes. Their series premiers May 12 on W Network.
I also tell Scott about the Country Music Hall of Fame and the fact the dern thing has the hay field from Hee Haw among the displays–complete with Junior Sample's overalls.
Scott also wants to know if we really need a Full House reunion series or a re-boot of Twin Peaks. As I explain to Scott, it's all about brands folks can find through the digital fog.
I also tell Scott not to miss the David Letterman prime time special CBS has planned for May 4. Letterman is in the home stretch now and his shows have become more interesting as some favourite guests line up to say goodbye. When Robert Downey, Jr., and Elvis Costello stopped by Thursday–two guys who go back 25 years with Dave–you could feel the love.