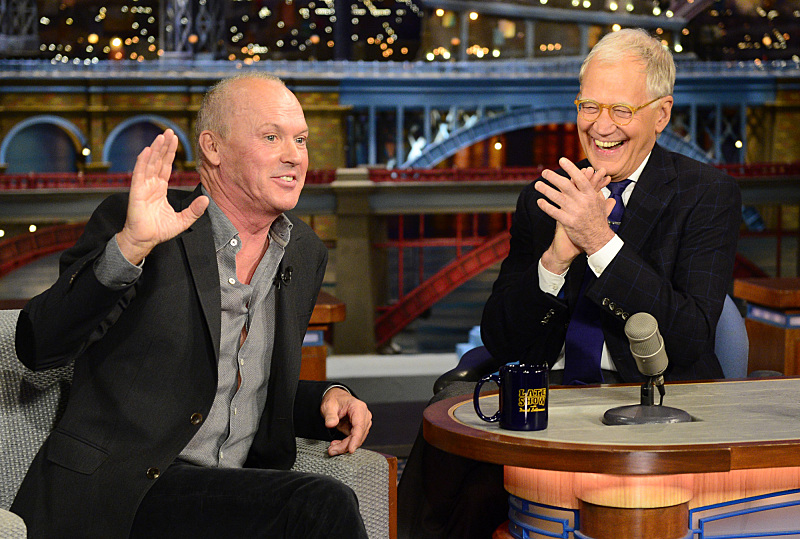 If you're not back watching David Letterman, you're missing his best shows in years. Tuesday night he had longtime friend Michael Keaton on and the two reminisced about their times back on Mary Tyler Moore's 1978 variety show Mary. The short-lived series had a remarkable bench, with Swoosie Kurtz, Dick Shawn, Merrill Markoe, Keaton and Letterman among the players.
Keaton brought a clip of the ensemble doing a song and dance number. Letterman refused to watch and hid under his desk. You could see his contempt for the number and at himself for taking part–hilarious.
After 6000 shows in late night, Letterman has just 16 left. He will have zookeeper Jack Hanna on for one more time Wednesday night. Steve Martin and Emmylou Harris guest Friday. George Clooney, Oprah Winfrey, Howard Stern, Tina Fey and Tom Hanks are also booked. Bill Murray can't be far behind.
Robin Williams would have been there. Mary Tyler Moore and Teri Garr may not be well enough. Drew Barrymore would have been interesting. Cher needs to call him an asshole one last time.
It's not going to happen, but I'd love to see Letterman go into the auditorium for one last "Know Your Current Events."
Dave Itzkoff at the New York Times sat down with Letterman and got his thoughts on his final weeks, you can read that Q&A here.