What are the words to the bilingual version of Canada's national anthem?
This is going to haunt me pendant des annees after Tuesday's Amazing Race Canada Media Challenge in Toronto. CTV invited 10 teams to race around the city in a mini version of what the real contestants have to endure for 30 days. Season Three of The Amazing Race Canada premieres Wednesday July 8 at 8 p.m. ET.
Thankfully Tuesday's media race won't be televised. It only involved a few checkpoints, but the first one was the downfall of me and patient teammate Murtz Jaffer, a.k.a. @TeamBillurtz.
Having some familiarity with the downtown Toronto parks system would have been a big asset Tuesday. The checkpoint clues simply state, "Head to Stanley Park." Cell phones and other electronic devices are taken away from participants, so you are forced to rely on your wits or, worse, the kindness of strangers.
Many Toronto cab drivers, apparently are just as uber-unaware of the Toronto parks system as I was. We eventually made it to Stanley, where the challenge was set up in a baseball diamond. One member or each team had to sing the national anthem. Piece of cake, I thought. Chance to do my Paul Morris impression.
Wrong, Maple Leaf Gardens breath.  It was the bilingual version one had to warble. Being an old anglais, I never had the French and English version pounded into me in school. In fact, they changed the English lyrics since I was a lad. I think the whole song was simply, "O Canada, we stand on guard for thee" repeated 12 times in the '60s.
After one abysmal attempt, I ran to a Printing House in King Street West where a clerk was kind enough to look up the lyrics and print them out for me. This was, to me, an absolute shocker–there are still Printing House's??
You could not, however, read off a sheet or any notes. It had to be memorized. This is fatal for me, as all those useless names of Warner Bros. cartoons characters and directors from the '40s or the starting lineup for the '72 Oakland As will not give way to memorizing new anthem lyrics. Murtz was reduced to acting out sound-a-likes such as "car" and "bras" to help me along. It was to no avail as I started forgetting the English words. You quickly gain insight into how difficult it is to do this stuff under pressure, so hats off to the real racers.
Murtz bills himself as "the world's foremost reality show expert" and his skills were put to the test Tuesday. He somehow conned another team into accepting a four hour penalty and then, after they moved on, we snuck back to the diamond where the sympathetic Francaphone judge/umpire finally allowed, with Murtz's help, one more try and then on to the next checkpoint.
Still,  I fear under Harper's new rules for citizenship that I may no longer qualify as Canadian.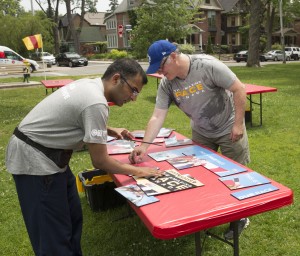 There is a lot of in- and -out of cabs in the Race and some physical shtick, too. A decision to skip a Frisbee challenge and drag Murtz around in a cardboard canoe had me wondering if this particular park was closer to St. Joseph's Hospital or Sunnyside.  An easier challenge by far was putting together a puzzle of the Amazing Race Canada poster, complete with host Jon Montgomery paddling with moose and beaver.
The Man himself was there to greet us as we reached the day's final check in point. We arrived last, but thanks to Murtz's diabolical trick, were finished second last. Hey, you take your victories where you can find them.
Montgomery, by the way, just broke his thumb doing a voice over recording. Yes, Mr. Olympic Gold bobsledder, kayoed in a studio. Hilarious.
Congrats to Tuesday's media team winners from CTV's The Social, who whizzed by so fast I didn't catch their names. Canada AM came second, so the home team cleaned up.