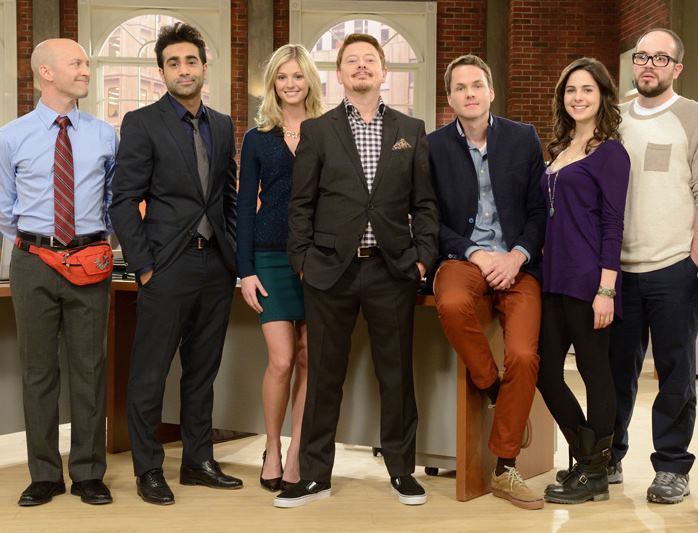 UPDATED: See bottom of this post.
Quick–is anybody looking? CTV has waited until the dead of summer to sneak Spun Out back onto its schedule. The Toronto-based sitcom, featuring Paul Campbell and Dave Foley, was supposed to return last February in the coveted post-Super Bowl slot. CTV was amping up the launch until, five days before the big game, news broke that cast member Jean Paul Manoux, who plays Foley's weirdo PR agency assistant Bryce McBradden, was arrested by Toronto police and charged with voyeurism.
Manoux, who splits his time between Toronto and LA, was renting his Queen Street condo to two women. According to published reports, hidden cameras connected to the Internet were discovered on the premises and the police were alerted.
CTV saw no way to spin the Spun Out scandal and reacted with the full Cosby, canceling the post-Super Bowl premiere and yanking all episodes of Spun Out off all platforms, including on-demand and Crave TV. That's a huge chunk of Can-con to swallow.
Immediately there were headlines: "Manoux arrest put Spun Out behind bars." News quickly spread to the States.
Not helping was a nagging matter of Twitter Tourettes. Last summer, executive producer and co-creator Brent Piaskowski tweeted out a controversial message about fellow passengers of Asian origin while on a plane trip from LA to Calgary. Two race organizations complained to CTV. Piaskowski insisted the remark was meant as a joke and apologized. Toronto Star TV critic Tony Wong, for one, wasn't prepared to dismiss the incident as just another case of comics not knowing when they've crossed the line on-line and kept the heat on in print.
Clearly, while CTV was prepared to ride out Piaskowski's Strike One, Manoux's criminal charges were a whole other matter.
The show, however, is back and back with force, albeit with one day's notice. Season Two will premiere Tuesday, July 14 at 8 p.m. It was also air on The Comedy Network, on-demand and on CraveTV.
This is good news for stars Paul Campbell, Dave Foley, Rebecca Dalton and the hundred other people who worked on the sitcom. Manoux's scenes will stay during the Season Two run. Tuesday's episode, directed by Foley, features Russell Peters as Nelson's (Al Mukadam) DJ-ing brother Ray.
The series faced challenges even before the shoes started to drop. The grand experiment to shoot four camera comedies in Canada did a quick one-and-done, with both Spun Out and Vancouver-based Package Deal abandoning the process in their second seasons. Budget cuts were part of the reason for the Spun Out switch, but the experiment was also a creative miss. As someone who sat in the studio audience for both these shows, I can attest that, in both instances, the experience was far more rewarding for the live audience than for the one at home.
No matter how Spun Out does this summer tucked between a re-run of Big Bang and Hot in Cleveland, don't hold your breath on a Season Three order. Foley has landed a recurring role on Matthew Perry's The Odd Couple. Campbell is teaming up with his old pal  Cobie Smulders (How I Met Your Mother) on a new, single-cam comedy. Campbell will play an out-of-work actor who discovers he has a son. The series has Bell backing and one of the Spun Out EP's, Andrew Barnsley (also on Schitt's Creek). Darcy Michael (Gordon) from Spun Out is also part of the migration.
The new series' title kinda sums everything up: Beyond Repair.
UPDATE: CTV has put out a statement on the release of Spun Out in regards to Manoux's legal situation–which, apparently, is no further ahead than it was last February. Here is the statement, attributed to Scott Henderson, Vice-President, Communications, Bell Media:
Several months ago, CTV put the broadcast of Spun Out Season 2 on hold to provide time to assess the ongoing legal proceeding with actor JP Manoux. Since that time, while we continue to respect the process, no further information has come to our attention. As a result and with careful consideration, we have decided to move forward with the broadcast of Season 2 this summer in support of the entire cast and crew, and fans of the show. Mr. Manoux is part of a large ensemble cast, is not the focus of the series, and has not been proven guilty of any crime at this time. The cast and crew worked tirelessly on Spun Out, and it deserves to be seen as the judicial process makes its way through the courts.