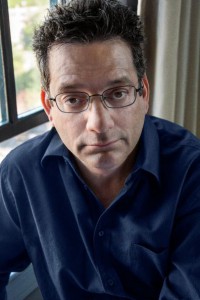 In recent years, one of the highlights of the Just for Laughs comedy festival has been Andy Kindler's "State of the Industry" address.
I got a preview of this year's laffer waiting for the elevator with Kindler. The comedian was already standing before the four closed elevator doors on the 10th floor when I hit the lobby. I introduced myself and he introduced me to his wife.
The elevators at the Hyatt, like the hotel itself, have seen better days. It didn't help that one of the four elevators had been commandeered by Pete Holmes, who was going up and down doing live podcasts for days.
This cut the available elevators down to three. Grumbled Kindler: "He couldn't have called this thing, 'At the Staircase'?"
We did eventually get off the 10th floor. At the session, Kindler was at his curmudgeonly best. The man will joke about anything, even the death of his father in January. "Think about that when you're not laughing at my 13th Jay Leno slam," he said. Polite laughter. Thundered Kindler, "I just want you to know my father would have wanted me to do weak material about his passing."
There were jokes about social media. "I can't take any more tragedy on Facebook," said Kindler, who provided an example. "Good morning–I have gangrene!"
Kindler saved some of his harshest slams for CBS' Late, Late Show host James Corden. "I can't watch him so I assume it's bad," he said. "Tell me if it's over–I'll stop talking about it."
He then went into the whole backstory behind Corden getting the much coveted gig. "James Corden had no desire to do a talk show," said Kindler, recounting how the British comedian originally took a whole other pitch into CBS. It was CBS CEO Leslie Moonves who hand-picked Corden after catching him on Broadway. This seemed to bug Kindle, who said Moonves was, "normally on the ball."
Kindler–a friend to the end of David Letterman–then goofed on how, as he sees it, the whole talk show scene has devolved. Hosts today, he suggested, have to be able to do "potato sack races with Cameron Diaz.
"I can't even get my viruses to go viral!" he groused.
He also hates Corden's habit of keeping everyone on the couch a la Graham Norton. "I'm going to bring out all the guests for the next year," he mocked.
He took a shot at Craig Ferguson. "There was a guy who cares."
He took a shot at "Ant-Man."
"I wont see it," he said. "I don't like ants and I don't like men."
It went on and on and unfortunately I had to duck out for a scheduled interview. His shtick works because Kindler's hardest on Kindler. He grabbed some water at one point and things got a little too quiet. "I've never lost an entire room," he observed aloud, "by taking a sip."