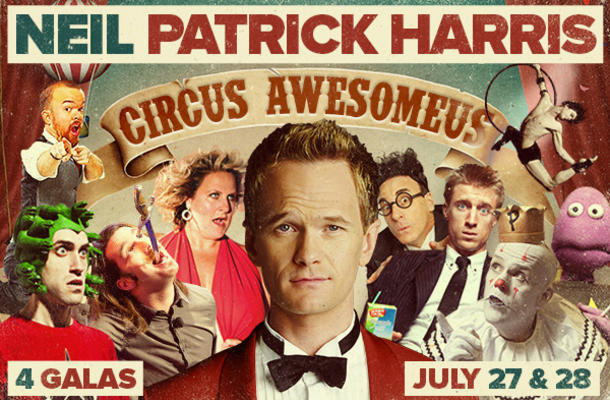 MONTREAL–Neil Patrick Harris had no idea Just for Laughs was such a wild friggin' party. He arrived Saturday and quickly got swept up into the after-party fast lane.
That pushed our interview back an hour Sunday but when Harris did emerge he could not have been more gracious or accommodating. We chatted for nearly an hour and covered everything from all those award show hosting gigs to his kids Hallloween costumes to his four shows this week in Montreal.
Harris hosts "Circus Awesomeus," a smorgasbord of delights Monday and Tuesday nights at the 3000-seat Salle Wilfrid Pelltier at Montreal's Place des Arts.
NPH had checked the room the day before and was a bit daunted by its size. I assured him it plays smaller than it looks. Trevor Noah worked the room last Thursday night and killed. There's a giant screen on stage and cameras capture every facial tick.
Harris got to hand-pick the acts booked for the four shows and selected a sword swallower, magic acts, puppets and jugglers along with the usual comedy-music mix. He says he "may do a little slight of hand" himself. JFL nixed his idea to bring over the entire Shanghai dance troupe.
He sees the show as a warm up for his big NBC variety show Best Night Ever with Neil Patrick Harris. It debuts Sept. 15 on NBC and CTV. Eight episodes will be shot in New York and then, fingers crossed says Harris, they'll get to do more.
It's pretty hard to describe but Harris basically suggests throwing eight different shows into a blender and hit blur.
It's based on the UK hit Ant and Dec's Saturday Night Takeaway. This bit of madness is in its 13th season. Check it out on YouTube.
Harris appeared on the British series in April. "Team America went over to be a fly on the wall," he says. "It's a massive hit, I'm just lucky no one had the gumption to do it [in North America] yet."
As for the kids costumes (a heads up I got from my daughter Katie, who showed me pics on her phone), Harris and his husband David Burtka have four year old twins and all four dress up like crazy every Halloween. They have to spring the idea on the tots last minute now just to get the boy and girl to cooperate. Harris tried to get the kiddies to sign off on The Flintstones last year (seeing as how he already played a "Barney" on TV) but that got shot down.
The Tony and Emmy Award-winner and Tony, Emmy and Oscar host says, no, nobody has asked him to host the Canadian Screen Awards yet. He doubts the invitation will come anytime soon after all the shots his character, Barney Stinson, took at Canada over the years on How I Met Your Mother.
Stinson may hate Canada but Harris loves it with Montreal being his favourite city. Read more in this feature I wrote about NPH for The Canadian Press.