This past week in Montreal I fell under the spell of Priyanka Chopra. The former Miss World and current Bollywood superstar is making her North American series debut Sunday in Quantico (10 p.m. ET, ABC and CTV). The 33-year-old stunner plays an FBI recruit at the Quantico, Virginia, training academy who is not above flirting with her fellow trainees, including, in the opening scene, a young stud played by Jake McLaughlin.
Before writer/director Paul Haggis turned him into an actor in 2007's In The Valley of Elah, McLaughlin was a decorated soldier. He served in Iraq for four years in the 3rd Infantry Division. He shared a few war stories over dinner in Montreal Tuesday night and they were doozies.
He also spoke of the generosity of co-star Chopra, who gifted him and a few of the other young actors with these cool mini Segue's. They pretty much look like what Marty McFly rode around town on in Back to the Future. Unfortunately, McLaughlin did not get to enjoy his for long. He hopped on the sucker crossing a bridge in Montreal, flipped head over keester and shot the whammy board directly into the St. Lawrence River where it sank like a rock. The video, if he ever posts it to YouTube, will get a zillion hits.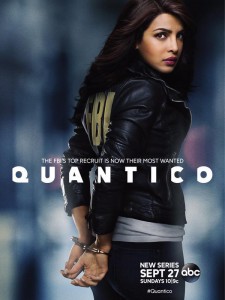 Chopra appears to have her feet firmly on the ground despite all her fame in her native India. She signed posters for each reporter who attended the press sessions this week at Mel's Cite du Cinema, the massive Montreal sound stage complex where the latest X-Men feature is wrapping up. She was tugged back to the set throughout the day but remained cheerful and still managed to ask reporters if they needed anything between press chats.
When she did sit for questions she was relaxed and in charge. It helped, she said, having her mother and other family members in town for a visit. Her co-stars, including Josh Hopkins (Cougar Town), who plays an FBI instructor, raved about her.
"I should probably lie and say that I was a big fan," said Hopkins, "but I'd never heard of her."
Then they traveled to New York to shoot some exterior scenes and Hopkins saw first hand the passion Chopra inspires in fans. "When she shows up, they go crazy," he said. "My dream would be that this show is so successful we all take a trip to India 'cause I'd like to see what it's like to walk around with Beyonce."
ABC hopes some of that street passion translates into viewers Sunday. For more on Chopra and the Quantico set visit to Montreal, follow this link to the feature I wrote this week for The Canadian Press.