MONTREAL–CTV flew me in to visit the set of Quantico, the new thriller set to premiere Sunday. The ABC series is set at an FBI training facility and is parts Rookie Blue, parts Homeland.
They put press up at the Fairmont Queen Elizabeth hotel, which allowed me to take a Magical Mystery side-tour. Suite 1742 was home to a big Beatles' moment, the 1969 Bed-In with John Lennon and Yoko Ono.
The bedroom stunt weirded out many but the avand-garde couple insisted they were protesting the war in Vietnam. It was also the hotel room where they recorded their rock anthem Give Peace a Chance.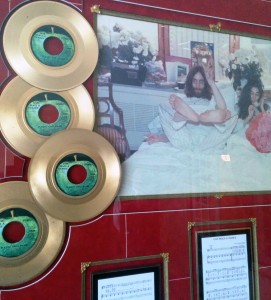 The QE, a mid-century landmark which opened in 1958, is shameless about exploiting their Beatles moment. They have tricked out the suite with several photographs of the couple from their May 26 to June 2, 1969 adventure. There are also gold records and framed press clipping on the wall.
Want to spend a night in the suite? You can grab the room for CAN$799, although it's booked until the 27th. Pay more–up to $1200–and you can get the full VIP treatment, including a pickup at the airport, Lennon CDs, breakfast in bed-in and even two pairs of pyjamas that are replicas of the ones John & Yoko wore in '69. (The jammies are also available separately downstairs for $120.).
At one time, guests could order the very same breakfast the Lennons got in 1969, according to a hotel staff member. That offer was discontinued, however, because it was just too much food!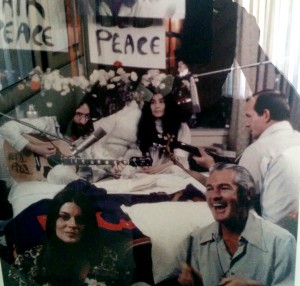 Among the celebs who flocked to the suite and took part in the Give Peace a Chance sing-a-long were LSD guru Dr. Timothy Leary and Tommy Smothers. The latter was fresh from getting fired from he and brother Dickie's CBS variety show.
I spoke with Smothers a few years ago about the event. He told me Lennon chastised him for trying to show off on the guitar and instructed him to simply follow his lead.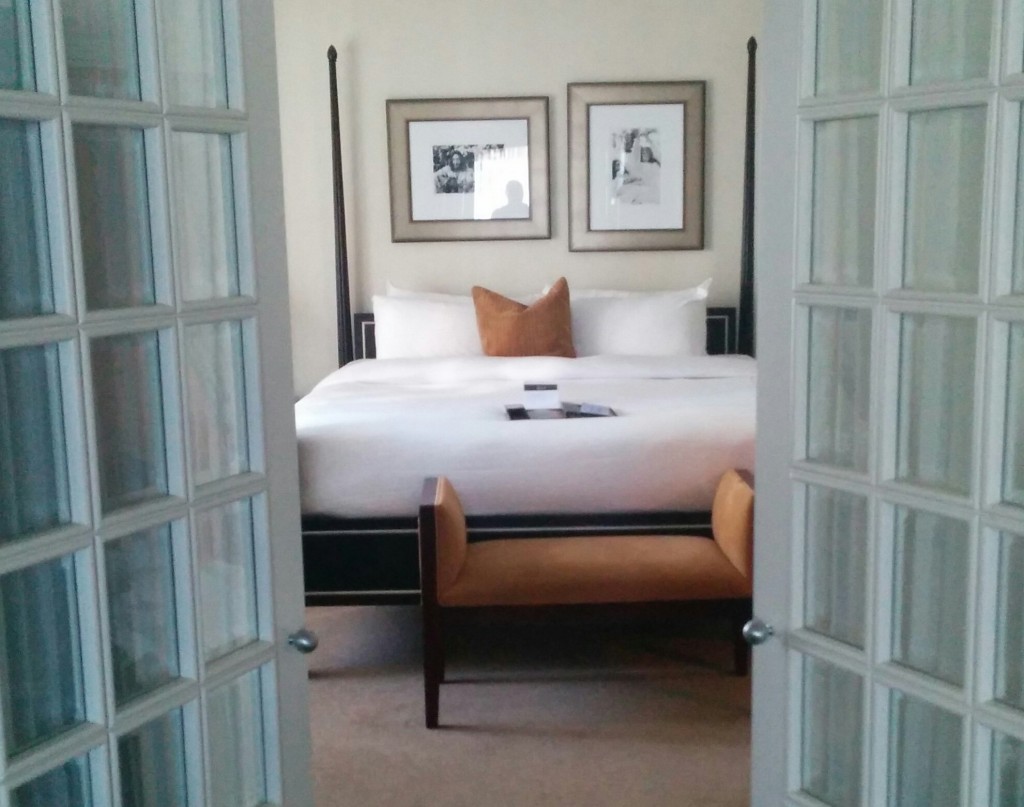 The suite is a little different today. The bed, for one thing, has been switched to the other end of the suite. Also, it doesn't reek of pot–at least, not when I visited this week.
Side note: The Beatles were booked into the QE five years earlier on their first North American tour. Death threats aimed at Ringo (!), however, gave the rock entourage the willies, and The Beatles beat a hasty retreat back to the airport after their Montreal concert. It was the only stop on their tour where they did not sleep overnight.