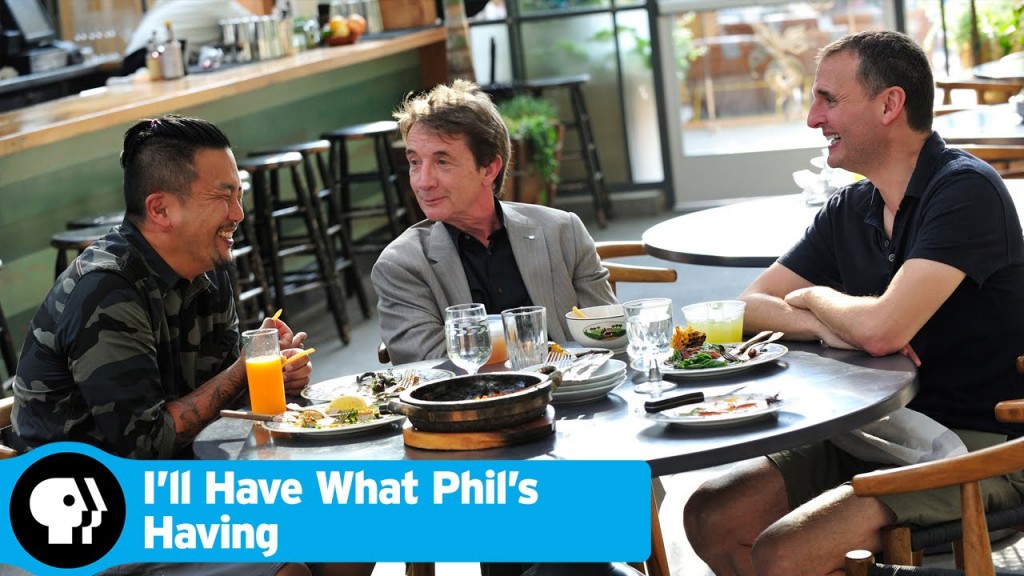 I'm a little late to this table, but here's my new favourite reality show–I'll Have What Phil's Having.
The first six episodes aired Mondays at 10 p.m. ET on PBS and can be streamed here at pbs.org.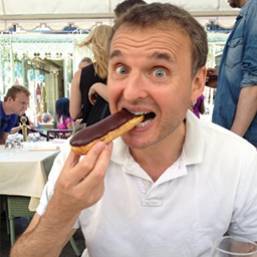 Time magazine's Joel Stein calls it "Not only the funniest travel show on television, but also the warmest." I'd have to agree.
The star of the series is Phil Rosenthal, the sweet-yet-edgy, universally loved creator of Everybody Loves Raymond.
Well, maybe one guy doesn't love him. Rosenthal is a key player in Bill Carter's book "Desperate Networks." According to Carter, he was the guy CBS boss Leslie Moonves turned to for an opinion on a fall TV pilot starring Tony Danza. When Rosenthal said, "Not that guy again," Moonves did a last minute switch, dumping Danza and adding a show that would be a world-wide, monster money- and franchise maker–CSI.
I've asked Rosenthal point blank if the story is true and he denies it. Carter stands by it. My suspicion: Rosenthal is such a nice guy he hates being the one who screwed over the guy from Who's the Boss and Taxi.
It would be interesting, then, to see Danza guest on Season 2 of I'll Have What Phil is Having. The series follows Rosenthal as he travels the world discovering exotic dishes. Season 1 stops include Barcelona, Hong Kong and Paris. It is just that simple, but the cherry on top is having a quick and witty host who also brings to the table a side dish of humanity.
This was all evident in last week's season finale, which found Phil trolling for edible delights in his adopted city, Los Angeles. He explains early that he is a New Yorker who only ever left in order to pursue his career as a TV writer. What has shocked him ever since is how good the food tastes on the Left Coast.
He starts off at one of my favourite haunts, the Farmer's Market. Situated right next door to CBS on Fairfax, that rustic throwback is, as Rosenthal says, the one place in LA that feels like a small town.
Most intriguing, however, was the downtown LA places Rosenthal explored, especially the Grand Central Market on S. Broadway. Who knew? As Phil says, once upon a time,  the only reason to go to downtown LA was to dump a body. Then there is Langer's Deli on S. Alvarado St. Phil says better pastrami than New York! How have I never been there?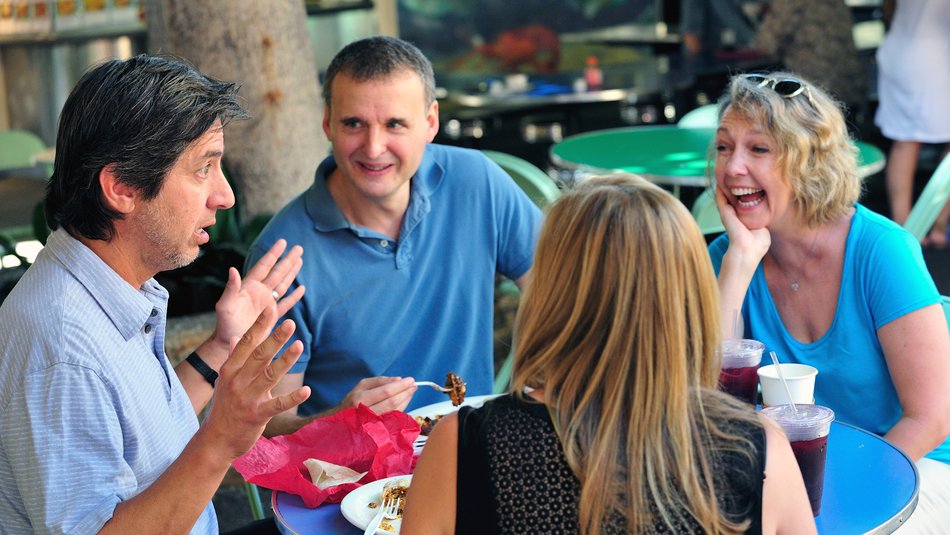 Adding to the fun of the LA episode are some of the executive producer's famous friends. Comedy legend Norman Lear and Mad About You's Paul Reiser nosh at Langer's. Martin Short is surprised by Chef Roy Choi's Korean/Californian delicacies, especially the kimchi fried rice. (Phil on Short: if you put all the funny people in one room, Short would be the funniest.)
Allison Janney is Phil's surprisingly cool date as they eat everything in sight at the Grand Central Market. The Romanos join the Rosenthals for a little food fun, too. There's also an "omelet drill sergeant" moment from improvisational French Chef Ludo Le Febvre.
Peppered throughout is just enough insight from Rosenthal to remind you this is PBS, not the Food Network. A stop at Homeboy Industries, a remarkable downtown rehab centre/bakery run by a priest, is the most moving part of this hour. Rosenthal meets a former inmate who has turned his life around one pastry at a time.
This is the best food show I've ever seen. The Los Angeles episode in particular reminds me of Jerry Seinfeld's Crackle gem Comedians in Cars Getting Coffee. It stars smart, funny people and makes you feel like you got to go with them to some fabulous places.
Here's the kicker: the PBS "Phil" site is tremendous. Not only can you watch the episodes, there are easy-to-navigate links to the restaurants (including maps) and recipes. Bon apetit.