What are the best regular series Christmas episodes ever?
I wrote a story this week for The Canadian Press listing 10 of the best-ever Christmas-themed episodes. The hook was Monday's episode of Murdoch Mysteries, a two-hour Christmas special featuring guest stars Brendan Coyle (Downton Abbey) and TV legend Ed Asner. Even Peter Mansbridge gets in on the act (Monday at 8 p.m. ET on CBC).
CTV's Saving Hope (just renewed for a fifth season) also did a Christmas episode earlier this month,
as did half a dozen U.S. shows.
There are 10 golden oldies listed in the CP story, including a first season episode of The Andy Griffith Show. As it has done in recent years with I Love Lucy episodes, CBS has had it colourized and is it airing Christmas Day. The 1960 gem also features Don Knots as Deputy Barney Fife, and future director Ron Howard as Opie.
Other series on the CP list can be watched this Chr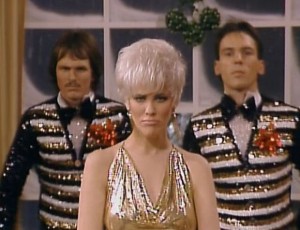 istmas on-demand on digital platforms CraveTV, Netflix and shomi.  All except the SCTV 1981 Christmas Party episode, which is available on DVD. It was one of the 90-minute NBC efforts and features pretty much the entire original cast, including Dave Thomas and Rick Moranis as Bob and Doug McKenzie. They give each other smokes. The highlight for me, however, is Johnny LaRue's crane shot at the end, one of the most touching moments ever in Melonville.
Beyond the CP list, here are five others you'll have to hunt for on DVD or YouTube:
I'm partial to The Dick Van Dyke Show Christmas episode "The Alan Brady Show Presents." It is one of the episodes from the series where Carl Reiner and the writers took the week off and pretty much let the cast simple sing and dance. It's also about the only time you actually get to see The Alan Brady Show. The highlight is the "Four Musicians" bit performed by Van Dyke, Mary Tyler Moore, Rose Marie and Mory Amsterdam. They liked this one so much it was worked into another episode. Rob and Laura as dancing Santas is also about as sweet as it gets. What holds up 50 years later is how much fun the cast seems to be having.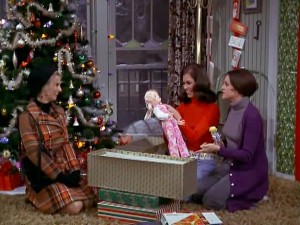 The Mary Tyler Moore Show tried a couple of Christmas episodes, including the first year entry "Christmas and the Hard-luck Kid II" (1970). New to WJM, Mary learns from boss Lou Grant (Asner) that she has to work and can't go home for the holidays. You just know Rhoda and Phyllis and the others will bring Christmas to her before the final act.
The episode was written by James L. Brooks, who a few years earlier wrote something similar for That Girl. In that one–the original "Christmas and the Hard-luck Kid"–Thomas' character Ann Marie tells Donald (Ted Bessell) about the time she slept over at a school with one of her students who was missing out on the holidays. It's not as creepy as it sounds. The kid was played by Christopher Shea, better known as the voice of Linus from A Charlie Brown Christmas and other Peanuts specials.
Among the 39 original episodes of the classic series The Honeymooners is the 1955 gem "T'was the Night Before Christmas." The story is as stark and simple as the Kramden's Brooklyn apartment: Ralph (Jackie Gleason) sells his beloved bowling ball to buy a present for his wife Alice (Audrey Meadows). By the end of the episode, you'll marvel at how much—after 60 years–four people (including co-stars Art Carney and Joyce Randolph) in one room can make you laugh and cry.
Bewitched did four Christmas episodes over its eight-year run. By far the most controversial was "Sisters at Heart" (1970). Young Tabitha does a little "wishcraft" to make her skin colour match her African American friend Lisa. The kids' faces wind up polka dotted when something goes wrong. At turns awkward and astonishing, viewers today will wonder how so much blackface wound up on a network TV show in 1970. The sponsor was a little jittery, so Montgomery taped an intro explaining this was "a very special episode." What actually made it special was that it was based on an idea submitted by a Grade 10 class at a Los Angeles school.
My Christmas list is heavy on the comedy. Did I leave out your favourite? Feel free to suggest other titles in the comments below.