One of the things that surprised Sean Patrick Shaul while making "Silent Legend: The Mack Sennett Story" was how few people, even in the film and TV business, had even heard of the man dubbed the original "King of Comedy."
The Vancouver-based filmmaker's Sennett doc premieres Monday at 8 p.m. on CBC's Documentary Channel.
Having grown up collecting silent and sound comedies on 16mm, I was surprised at how sharply Sennett had fallen off the radar, too. I ran the name past my son Dan, now 23 and working in program development at Vice. The name didn't ring a bell, despite the fact he and his sister Katie were grew up to the whir of a 16mm projector.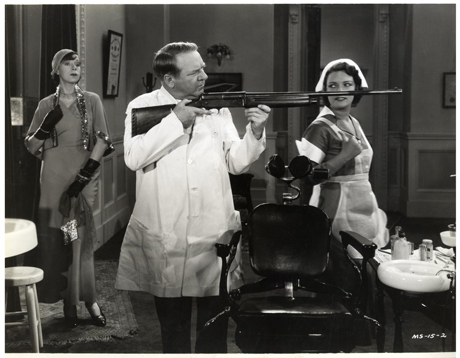 One of the first films I bought, back when I was still in high school, was a 16mm dupe print of The Dentist. (Purchased for $20 off the late Toronto film collector Malvern Jacobs. I've since replaced it with a crisp original print, once owned by Toronto Cinefest impresario Reg Hartt.)  Sennett was already past his slapstick prime when he made the 1930 sound short, one of four he made with W.C. Fields. They're all gems and provided Fields with blueprints for many of his great features of the '30s and early '40s.
Sennett shot all four shorts, according to my L.A.-based film collector pal Stan Taffel, on a couple of sound stage he built on what is now known as the CBS Radford lot in Studio City. Everything from westerns to Leave it to Beaver, My Three Sons, Gilligan's Island, Mary Tyler Moore, Newhart, The Golden Girls, Seinfeld, The Larry Sanders Show, Roseanne, That '70s Show to Brooklyn Nine-Nine and Grandfathered has shot at Radford.
The CBS Studio Center, or "Radford Lot," is sacred ground for those of us who worship at the church of Perpetual Comedy. Shaul's documentary shows Sennett had even greater studio ambitions, with blueprints drawn for a larger studio facility up on the Hollywood Hills, not far from the fabled Hollywood sign. The Great Depression, and Sennett's own declining fortunes, derailed those plans. Bankruptcy forced him to sell the Studio City lot in the mid-30s.
Sennett built another studio in Hollywood in 1916 as a gift for Mabel Normand, his leading lady and also his girlfriend–until she caught him with the ever-popular Mae Busch. The studio was an attempt to woo Normand back, but their relationship after the breach was all business.
Shaul was introduced by Stan Taffel and screened his documentary at the century-old building–rechristened the Mack Sennett Studio–in January. I attended the screening; read more about that here.
If you don't know Sennett–born in Quebec in 1880–get someone to throw a pie in your face, mop up and then and check out the documentary. Learn all about the Keystone cops, Charlie Chaplin, Roscoe "Fatty" Arbuckle, Mabel Normand and a generation of comedians who found their feet 100 years ago at Sennett's Keystone Studios. Read more about Sennett and Monday's Documentary Channel premiere here at this feature I wrote for Monday's Toronto Star.