There are times when Tatiana Maslany really does wish she could clone herself.
As fans know by now, Maslany is a one-woman ensemble on Orphan Black. The Temple Street Production returns Thursday, April 14 at 10 p.m. ET on Space as well as BBC America. In the forth-season premiere, "The Collapse of Nature," we find that Sarah Manning's hard-won sanctuary in Iceland is shattered by a Neolution attack. 
The 30-year-old Maslany plays Manning as well as a growing army of clones with names such as Beth/Alison/Cosima/Rachel/Helena and others. They all sort of lookalike but have distinct and separate personalities.
The Saskatchewan-native has pretty much collected a trophy for every clone she plays, with praise coming from both sides of the border. She's won a couple of Canadian Screen Awards, a couple of ACTRA awards as well as TCA and Critic's Choice Television awards. She's been nominated for an Emmy and a Golden Globe.
Playing all those characters on the Toronto-lensed series leaves her even less time than every other overworked series lead.  To do this story, for example, Maslany had to squeeze a phone interview into a lunch break on the set.
Does it get any easier to slip in and out of all these personalities after four seasons?
I don't think it ever gets easier. The challenge of it is constant and that honestly is what makes it easier for me. There's always something to do, always something to focus on. To switch up characters half way through the day is always stimulating.
What other actor gets to play this many parts? It's just totally unique and I feel so lucky to have gotten this chance to learn so much about work and stamina and creation and being consistently inspired.
There must be times when you wish you could really clone yourself.
I do. Absolutely. The stamina thing is just getting up at five in the morning and working 13, 14, 15 hours a day. I couldn't do it if it wasn't something I was excited about.
Can you talk about anything that's about to happen this season?
I don't like spoilers. I don't like to spoil anything. It is an exciting season though. The clones are all forced to change a lot and take on things well outside their comfort zone.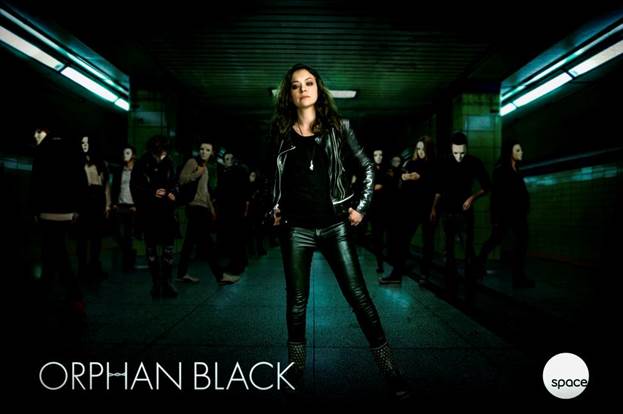 Do you take pride in being part of such a Canadian success story?
Yeah, absolutely. I think I'm really excited about the future of Canadian film and TV right now because of our young filmmakers. I just worked with a great newe filmmaker named Joey Kines [on "The Other Half" with Tom Cullen and Henry Czerny]. These young, up and coming filmmakers are doing such interesting work and pushing the boundaires.
I feel the same about TV. We're really lucky that we are in a time when people are willing to watch something like Orphan Black and are so voraciously excited about it. I'm super proud that we feature so many Canadian artist on our show. Not just the actors and the regular cast but also the amazing crew that we have. The wardrobe and hair and makeup team are the best in the business.
For a while there on your Wikipedia site it said you were up for a role in the next "Star Wars" movie. Any truth to that?
That is so not even remotely true. Wikipedia—isn't Wikipedia the place people can write stuff and make up stuff? Its not true.
What's the most outrageous thing you've read about yourself that isn't true?
Loads of things. It's funny what people will extrapolate from what's been said. Suddenly it becomes a news story. Why does anybody care about this? it's bizarre.
You've been acting since you were very young. What would you tell your 12-year-old self today about making the leap from Saskatchewan to Hollywood?
I think the only thing I would say is just live a little. I kind of live on sets and in acting classes most of my life. I'm only now beginning to understand that you need some balance.