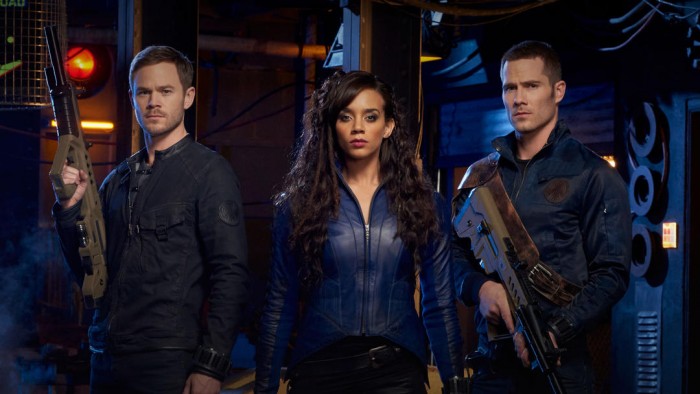 Feeling patriotic this Canada Day? A good time then to catch up with a couple of made-in-Canada TV shows.
Fact: I visited the sets of both Between and Killjoys several months ago while both were still in production for Season 2.
Both return this week; Between on City and Netflix and Killjoys on Space.
Both were showcased last October in Cannes at MIPCOM, the international TV marketplace.
Both draw better than average in the 18-49-year-old demo on their respective carriers.
Both shoot in and around Toronto.
And, on the days I visited, both were shooting scenes where characters were lying in a beds arranged in a circle in a large room, with anti-viral medication and other medical procedures being administered.
Coincidence? Yes, actually, coincidence.
Hannah John-Kamen plays Dutch on Killjoys, one of the show's three main intergalactic bounty hunters. (The others are played by Luke McFarlane and Aaron Ashmore). On set, between takes, John-Kamen looks very at home in her sporty space leathers, more Game of Thrones than Battlestar Galactica.
She loves that Dutch gets more than her share of the fight scenes.
"The bruises and everything—I'm loving it," says the U.K. native who says her "war wounds" do get a few stares at the beach. "The fight scenes give you such an adrenaline rush. One girl vs. six guys—it's amazing!"
She also loves her character's name. "I told the producers when they hired me, 'You had me at 'Dutch.'"
John-Kamen says fans will fine out "so much more this season, all about this world. The feudal system—we find out historically how everything has come to level 6."
Dutch continues to struggle with the conflict raging within herself.  "There's definitely very high stakes, a constant battle of good and evil."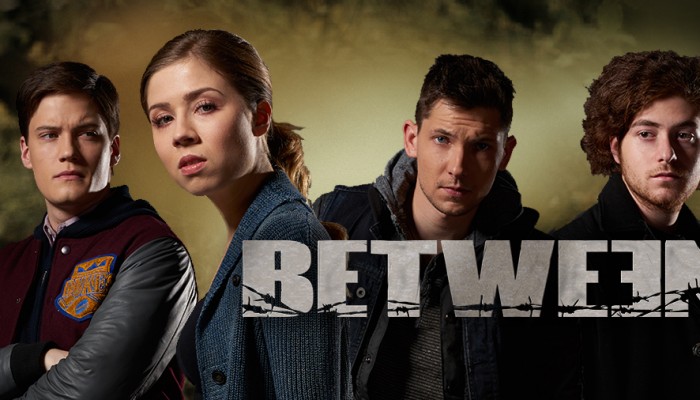 Meanwhile, over on Between, Woodbridge Ontario lad Jesse Carere (above right) pulled a Felicity when–on a whim over in France post-MIPCOM–he decided to shave his long curly locks. Fortunately the producers went with the new look, writing a hair-trimming scene into the Season 2 debut.
"They were ready with the script, ready to make it work," says Carere. "Things happen like that a lot, apparently. They were really accommodating and nice."
Carere feels the new look is symbolic of his character Adam, "shedding his past and moving on with less of a guard. He's more of a risk taker this season."
For more on Killjoys and Between, follow this link to the article I filed this week at The Canadian Press.