"Alec Baldwin is a good host for Match Game. When the first episode was over, he showed Rosie O'Donnell his blank."
Yes, the former 30 Rock star is hosting ABC's new Sunday night version of Match Game, and CHML's Scott Thompson wanted to know why. Probably because they offered him a blank-load of money. It also helps that ABC is shooting the series close to Baldwin's home in New York. Plus, hey, work is work.
I thought Baldwin did a great job in the opener. The recent Canadian version of Match Game never quite looked as if they had all the rights to the set design or other elements. Baldwin's re-boot takes place on a virtual replica of Gene Rayburn's old set from the '70s. Rosie O'Donnell is enough of a star still to keep viewers keen and she is clearly into the game. J.B. Smoove is a fun addition to anything.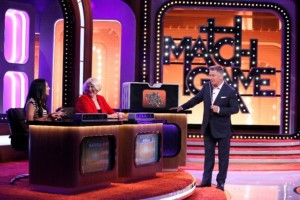 I didn't think the series would have any snap left in an era when dick jokes pass for entertainment during the supper hour. Nobody knows how to milk a naughty Schweddy Balls joke, however, like Baldwin. He also made sure there were plenty of shots taken in his direction.
Plus he does a killer Charles Nelson Reilly. Watch Match Game when it returns this Sunday along with The $100,000 Pyramid and Celebrity Family Feud--all perfect summer shows. Michael Strahan is an OK Pyramid host, but the show would be better if Kelly Ripa had been a celebrity player and the category was "TV hosts who leave without warming."
Hey CBC–this is the season to bust out that I idea I've been suggesting for decades–re-boot Front Page Challenge with SCTV stars as the panelists. Do it now–Joe Flaherty is 75! Do it while there are still front pages!!

I get into more TV stuff with Scott in this 10-minute segment. You can listen in to the full radio chat here.