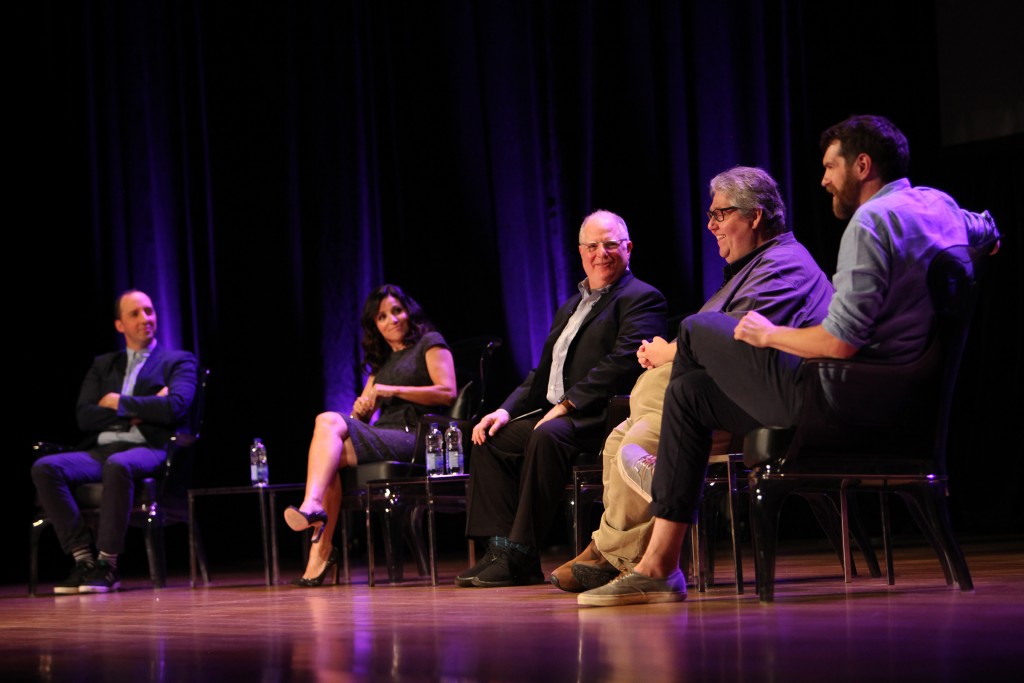 MONTREAL — How could "An Evening with the Cast of Veep" possibly go wrong?
Julia Louis-Dreyfus, Tony Hale, Timothy Simons, showrunner David Mandel and producer Frank Rich took the stage at Montreal's Maison Symphonique Thursday night as part of the Just For Laughs Comedy Festival. Before them a packed house.
The HBO series and Louis-Dreyfus were just honored again with nominations for the upcoming Emmy Awards. Mandel, who took over from series creator Armando Iannucci, is a brilliant showrunner. Patrons settled into their seats for a Love-in.
And settled, and settled and settled. The cast finally walked on stage and sat down — 45 minutes late.
Word later was that there had been some mix-up with the talent, who had been told the start time was 7:30, not 7 p.m. as stated on every poster and pamphlet. Still, as one friend here remarked later, "there are 100 comics across the street in the hotel. They couldn't pull three of them on stage while we waited?"
When they did arrive, a short trailer was shown on the giant screen behind them — and that was it for the A.V. dept. Throughout the hour-long event, the cast and producers made several references to key scenes and episodes. It would have been helpful to see some of what they were talking about.
Rich, the long-time New York Times columnist, acted as moderator. Being also a co-producer on the series, however, he seemed at times caught in between the questions and answers.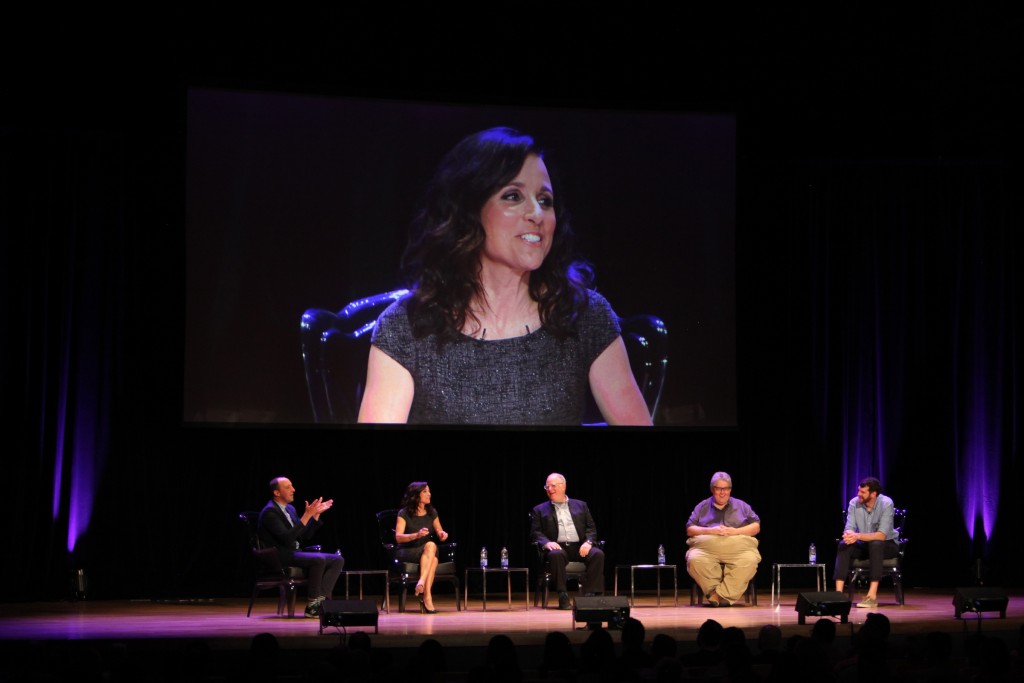 The venue, beautiful as it is, probably didn't help. It is a huge room, very vertical with high balconies leaving patrons far from the stage. Still, I've seen the right approach make even bigger rooms more intimate and effective.
For example, the 3,000-seat Dolby Theatre in Hollywood, home to the Oscars.  I've been to several Paley Centre presentations there and have felt closer to the cast. I've also admired the way the Paley folks seem to choose the right journalist to drive these sessions. Tim Stack (Entertainment Weekly) and Debra Birnbaum (Variety) have hosted panels at Paleyfest, and both have a good nose for what fans want out of these cast sessions. I've moderated a few myself at events in Canada featuring casts from Murdoch Mysteries, Republic of Doyle and Air Farce, among others, and know first hand that making sure the fans and the talent get the most out of these gatherings takes some practice.
Without the right direction, you wind up with, as Louis-Dreyfus herself observed half way through the Just for Laughs session, a cast just "sitting here talking about how much we like our show."
Not that there wasn't some insider intel shared. Simons told the crowd that this was his first ever television acting job. Rich talked about the improv process, and said the biggest complaint heard on the set was when a scene sounded "too written." The whole election storyline, with Dreyfus; Selina Meyer locked in a tie for the presidency, found the writers actually consulting with constitutional scholars.
Mandel, who previously produced and wrote on Seinfeld and Curb, spoke about following in Iannucci's footsteps, about as big a task as Trevor Noah has had trying to follow Jon Stewart. Mandel said "it would have been a real bootleg," if he had tried to copy Iannucci too closely. The cast praised the way he has handled the transition, especially various visual contributions.
Dreyfus cracked up the crowd when she was describing her bedroom scenes with Hugh Laurie, describing the English actor as shy and saying she had to physically grab his hands and clasp them on her breasts.
"I is a classy lady," said Dreyfus.
The audience was not given an opportunity to ask any questions — a shame, given the current political climate with the Democrat National Convention still on-going in Philadelphia.
At the end, the five of them just quietly stood up and left. Veep is a great show, and deserves a great showcase.