MONTREAL — Jeff Ross Presents Roast Battle does sound like a cooking show.
What gets roasted, however, are the hides of Ross' fellow comedians. The popular TV roastmaster is overseeing four nights of his new Roast Battle series, continuing tonight, Saturday and ending Sunday night at 10 p.m. ET on The Comedy Network as well as Comedy Central.
The series has been a couple of years in the making and got a bit of a tryout last year at JFL. Ross praised the festival for seeing the potential in a TV series even before he did.
I was at Thursday's first night taping and it truly is a no-holds barred, vicious affair. They might as well have put the two comedians who battle through each round in a steel cage. In case you miss the point, there is a skull and crossbones on the concrete floor.
Roast Battle feels like WWE meets Celebrity Chef. Everything is over-cooked for a crowd hungry for red meat. DJs spin and scratch red-and-white maple leaf vinyl. A warm up comedian is even more profane than the event itself.
"What's up you Canadian Mother-nuckers?" says Ross upon entering the arena. "If you have thin skin, change the channel!"
He introduced celebrity judges Kevin Hart and David Spade as "two of the biggest names with the biggest dicks on the smallest bodies." They both looked reasonably flattered. Ross' pal Jimmy Kimmel, Sarah Silverman, Whoopi Goldberg, Judd Apatow, Seth Rogan and Anthony Jeselnik are also judges.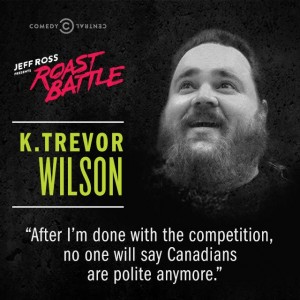 There are 16 comedians in the tournament, including lone Canadian K. Trevor Wilson, a.k.a. Squirrley Dan from Letterkenny. This is his fifth year in a row at JFL and his 15th as a stand-up comedian. Ross says he has the respect of his peers at the festival. There's a sweetness to the burly, bearded comedian, but he can also attack like a pit bull — a quality that helped him crack the Top-3 last year at a similar event Ross presented at JFL.
This year there is a $25,000 top prize, which, as Ross himself told me, jacks up the tension.
Read more about Ross and the Roast Battle here at this feature I wrote this week for The Canadian Press.