One network series with a fun premise this season is Timeless. It premieres Monday night at 10 p.m. ET/PT on NBC and Global.
The Vancouver-lensed sci-fi drama stars Goran Visnjic (ER) as a dangerous fugitive who steals a top-secret time machine. Chasing after him won't be easy, so the U.S. government rounds up three experts they feel can track him down through time: a history professor (played by Abigail Spencer), a soldier (Matt Lanter from 90210) and a scientist (Malcolm Barrett).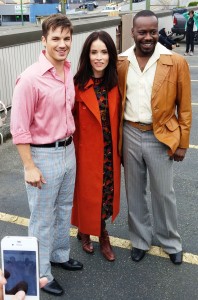 I met all four last month on location, along with Canadian-born co-star Chad Rook, who plays Visnjic's shifty accomplice. They were shooting scenes set in June of 1972, just days after the Watergate break-in. Read more about that set visit here at this feature I wrote for The Canadian Press.
Abigail Spencer plays historian Lucy Preston on the series. The friendly Florida-native previously starred on Rectify and had recurring roles on Mad Men, True Detective and Suits. On this series, she's definitely into all her time travel costume changes.
This must be a fun series to work on.
I'm a total fashion history geek. I love vintage clothing. I love the history of fashion, so every episode I come out in my historical piece.
If you could wear clothes from any era, which time period would you select?
I would do the '40s. Very Katharine Hepburn "Philadelphia Story." Lots of things that move.  I really love the '40s, I love that era. It's so romantic to me for some reason. I love the fashion, I love the look.
Speaking of clothing, you worked on Suits in Toronto. Have you worked in Vancouver before?
I did a movie called "This Means War" here. I've been shooting in Atlanta for four years on Rectify. We wrapped a week before I came and started shooting here.
What made you want to be Lucy?
It,s very different than anything else I've ever done. Honestly, I saw the goofball in her. I think there is a chance for intellect. She'a an intellectual and she's a total goofball. That's the way I saw her anyway. I didn't want to play a hero, I wanted to play someone put in extraordinary circumstances.
Tell us a little bit about this character.
We meet her in her element; she is a historian. A very respected historian is what they keep telling me — one of the country's foremost historians. I'm like, "Really? Are you sure?"
When you go home with Lucy you meet her sister, you see her mother's very sick. There's a knock at the door: "Lucy Prescott — come with us." The government is asking her to come to this secret warehouse where she discovers that time travel is real and because they can't take Google back in time, she's the only one who's got all the historical information in her head.
What gets revealed is that she's not really ready of this mission—she only knows history. That is her passion and her purpose.
When did you first know you wanted to be an actress?
My mother likes to say, "In the womb." She says I came out just telling people what to do, putting it all together.
I've tried to quit several times. When I quit, it comes and gets me, so I think there's really something there.
Hard to quit, I would imagine, when it is such a great time to be on television.
I have played incredible roles on television. Mad Man—that changed my career. I was working for 10 years before Mad Men came along. He changed my career, Matt Weiner. He's delightful, we really get along and we keep in touch., I adore him.
What else drew you to this series?
These are three total strangers thrown together in an extraordinary circumstance and that's what I love about it. It's kind of like the experience of coming here and making this show. You leave your home, you all come together, you're all making one thing, you're with each other all the time and you're having to…you're ordinary people having to do something really extraordinary so you cling to the people you're going through that experience with.