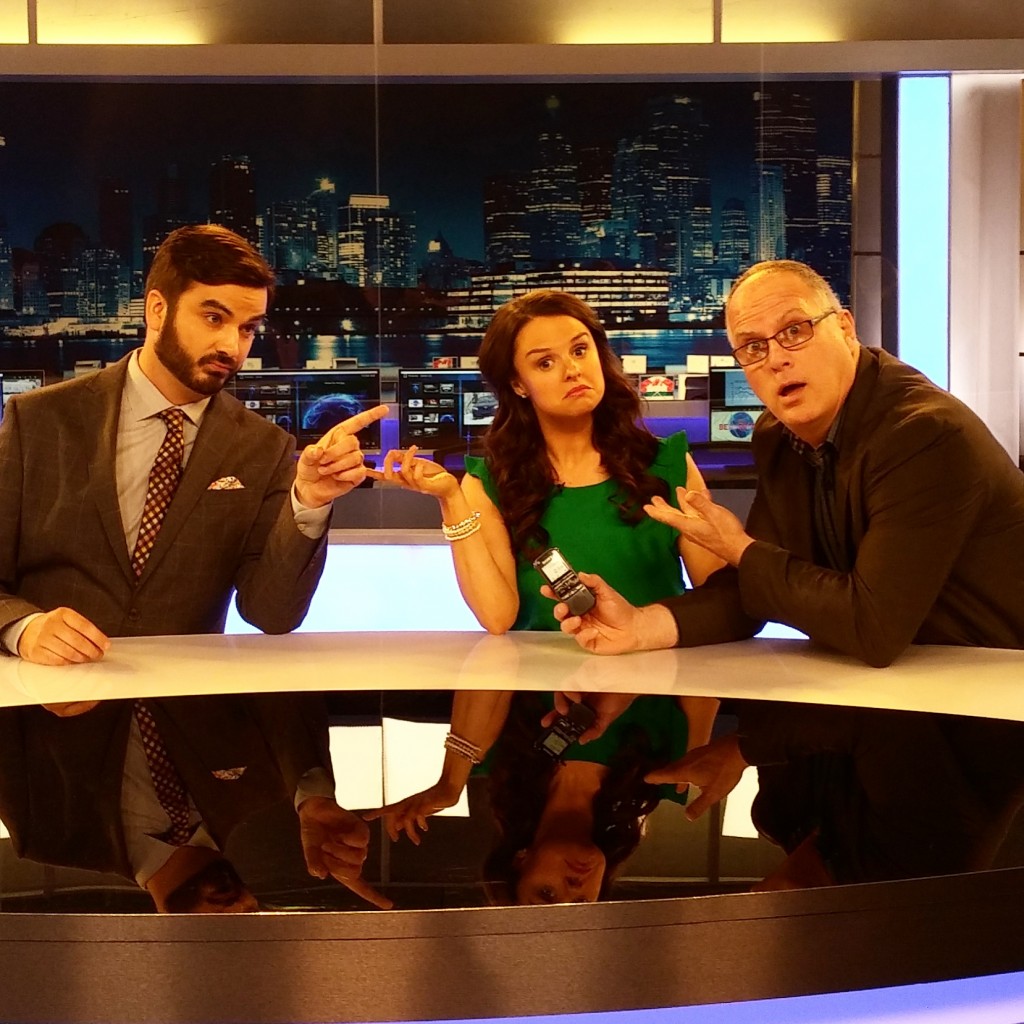 Making fun of the news in Canada is almost a religion.
From Earl Camembert and Floyd Robertson on SCTV to the gang at This Hour Has 22 Minutes, mocking headlines is as Canadian as a Tim's double-double.
It seemed fitting, therefore, to attend a taping of the upcoming satire The Beaverton in a church-turned-studio in Scarborough, Ont. Despite the rain, the Thursday night taping drew a packed audience, a testament to the reach of The Beaverton's satirical news web site.
The TV version will premiere Wednesday, Nov. 9 at 10:30 p.m. ET/PT on Comedy.
The debut will come the day after the U.S. presidential election. To prep for the election, the studio audience got to see two versions of The Beaverton — one where Hillary Clinton wins and the other, "Apocalypse" version (Trump wins).
The jokes were pretty funny. Clinton is described as "the first openly-female president."
The show has an edge fans of Samantha Bee's Full Frontal will appreciate. Justin Trudeau and other Canadian sacred cows came in for their fair share of pummeling. The series is co-created by Luke Gordon Field and Jeff Detsky as well as website editors Jacob Duarte Spiel and Alexander Saxton. Pier 21's Lazlo Barna and Melissa Williamson are executive producers.
T-shirts were tossed to a few lucky visitors open minded enough to wear something that says, "WILL F*CK FOR NEWS" (including the mother of one of the correspondents). Regular church goers who attend services in this makeshift studio may want to start lighting a few candles.
The director ran the audience through a series of warm up laffs; we were told extra laughter would be sold later to the makers of The Big Bang Theory.
It was cold in the studio, so Hunter kept her boots on behind the news desk. She seems to be everywhere these days, popping up on Mr. D as well as reruns of Match Game and 22 Minutes. She'll be back for another Air Farce comedy special this New Year's Eve, as will Beaverton correspondent Aisha Alfa. Marilla Wex, Donavon Stinson and Laura Cilevitz also contribute deadpan correspondent shtick.
Not feeling the chill was Rivas, who calmly cooled down with one of those tiny portable fans during "final prep." He will have many more fans after The Beaverton debuts Nov. 9.