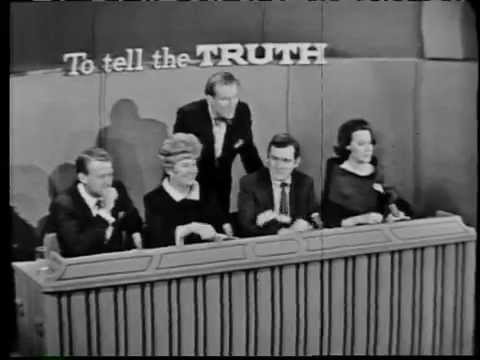 Are you like me? Do you like black & white TV shows from the '50s and '60s?
Yes TV — a Burlington, Ont.-based channel offering a mix of family fare and religious programming — offers a bundle of classic TV panel shows tucked way up in the week hours. Tune in Monday through Saturday from 1 a.m. till 4 a.m. (or, better yet, set your PVR) and you can see To Tell the Truth, What's My Line and I've Got a Secret in all their black & white glory.
A few years back, GSN had a similar programming strategy it called "Black and White Overnight." What makes this package of Goodson-Todman goodies an even better find for fans of TV's "Golden Age" is the inclusion of vintage TV commercials as part of the mix. You can watch such Don Draper-like sales pitches as Sleep-Eze: "Effective as phenobarbital  yet no  drug hangover, no drug habit," and new Aerowax with jet age plastic: "shine so tough you can grind heels on it."
Hosted by bow tie wearing Bud Collyer, the original run of To Tell the Truth (1956 – 68) featured likable panelists Tom Poston, Orson Bean, Peggy Cass and Kitty Carlisle with Johnny Carson sitting in on the shows I watched this week. Their task was to quiz three people all claiming to be the same person. At the end, the real so-and-so was asked to stand up.
There was a Canadian version produced in Agincourt in the early days of CFTO in Toronto. It ran from 1962 – 64. My mother, Margaret, wrote in and got her big TV break as one of the impostors, posing as a dietitian. I think she got one or two votes and won fifty bucks.
Maybe six-years-old at the time, I was brought along to the studio taping. I have a vague memory of being coaxed down from the bleachers to hit two notes on a piano sitting next to Canadian host Don Cameron. He may be somewhat responsible for a life spent chronicling television.
The other lesson learned that day was that lying pays. Thanks, mom!