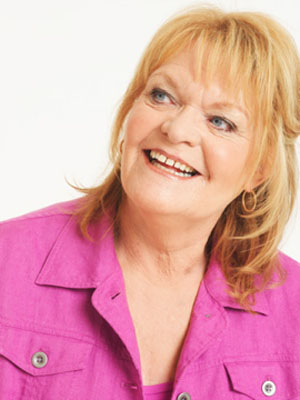 It was no accident that Corner Gas co-stars Janet Wright and Eric Petersen had such good chemistry. The two knew each other since they were both 18. "She's from Saskatoon, I went to school there," Peterson told me a few years ago in Rouleau, Sask., on the set of "Corner Gas: The Movie."
"I knew her sister who was an actress," Peterson continued. "We dated."
Wright was actually born in England but raised in a family of theatre actors in Saskatoon. She and Petersen played Emma and Oscar Leroy for six seasons on the hit CTV sitcom. He played a crotchety fella with his hat half off and a perpetual bee inside it; she was his long-suffering wife. Together, their personal affection gave the couple a sweetness not on the page.
The Genie Award-winning Wright died Monday at 71 after a long illness. "Corner Gas: The Movie" was her final screen credit.
Wright was not available during the movie's press junket but I had quite a long talk with Petersen. He remembers auditioning for the role and wanting it like he had never wanted a part before. "You guys gotta give me this part – I know this guy inside and out."' was his pitch.
Series star and creator Brent Butt once told me he originally had another actor in mind for the part – Billy Van. The Hilarious House of Frightenstein comedian, however, died before Corner Gas went into production.
Petersen was asked to head to Regina for a screen test. "I always thought they did screen tests in LA," he jokes. "That's when I found out the screen test was with Janet Wright." Petersen knew he was in good hands. "She's a magnificent actress."
Wright's screen credits date all the way back to "McCabe & Mrs. Miller" (1971). She scored something of a Can-con trifecta appearing on King of Kensington, The Beachcombers and Due South. She even worked once before with Petersen on Street Legal.
Her stage resume is even more impressive. She co-founded the Persephone Theatre in Saskatoon in 1974 and directed and appeared in more than 40 productions for Vancouver's Arts Club Theatre Company. She spent seven seasons at the Stratford Festival, acting and directing, including standout performances as recently as 2011 in "The Grapes of Wrath" and "The Merry Wives of Windsor."
Butt paid tribute in a CTV release Monday. "Janet was like no other person I've ever met," he was quoted as saying. "She had a giant wit, a giant heart, and was one of the strongest human beings to ever stride around this planet."
Condolences to her family and many fans. CTV plans to repeat "Corner Gas: The Movie" on Saturday, Nov. 26.