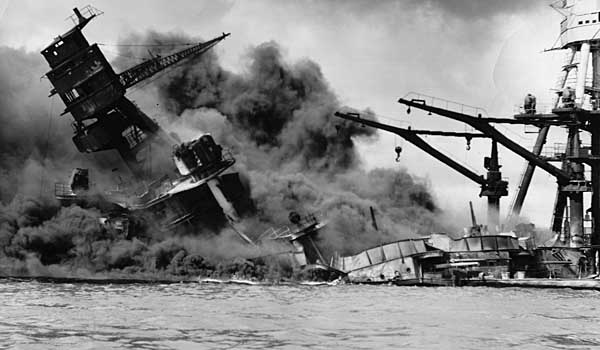 My mother, Margaret, turns 92 Wednesday. Her birthday is December 7 — as my dad and FDR used to say, "A day that will live in infamy."
Roosevelt, of course, was referring to another momentous and far less joyous occasion: the Dec. 7, 1941 attack on Pearl Harbor. The dawn raid that drew the United States into World War II took place 75 years ago this Wednesday. In total, 2,403 Americans died at the Hawaiian naval base and 1,178 were wounded. Eighteen ships were sunk or run aground, including five battleships.
HBO Canada is marking the anniversary with a Canadian-made documentary. Pearl Harbor: The Accused tells the story of Admiral Husband Kimmel, the man in command of the U.S. Pacific fleet. Kimmel was the scapegoat for the United States lack of preparation for the attack, or so argues Anthony Summers and Robbyn Swan, authors of A Matter of Honor. That's the new book upon which the documentary is based.
U.S. intelligence had cracked the Japanese code and knew an attack on the Hawaiian naval base was imminent. Kimmel basically never got the memo. Was it because Roosevelt was looking for an excuse to draw an isolationist nation into war?
Commissioned in part by Bell Media and produced by Montreal's Handel Productions, Pearl Harbor: The Accused premiered Monday and airs Dec. 7 and several other dates this month on HBO Canada. Read more about the documentary and its Canadian production connection here at this feature I wrote for The Canadian Press.
Incidentally, if anyone is wondering, late night talk show host Jimmy Kimmel (just named the next Oscar host) is no relation to Admiral Husband Kimmel – although, says Jimmy, "there is a new book about him that I just bought for my dad."