Long ago, in a galaxy far, far away, I had a close encounter with Carrie Fisher.
Actually it wasn't so long ago; it was the summer of 2010. Far away? It was at the Beverly Hilton, in the main ballroom. Fisher was at that summer's TCA press tour, chauffeured in by HBO to promote their airing of her one-woman show, "Wishful Drinking."
Famed for playing Princess Leia in the "Star Wars" films, Fisher died Wednesday morning in Los Angeles, just 60 years of age. The Friday before Christmas she had a heart attack on a commercial flight from London to Los Angeles. Efforts to revive her continued for days and played out over the Twittersphere. She didn't exactly die in space, but the temptation to spin it that way is there.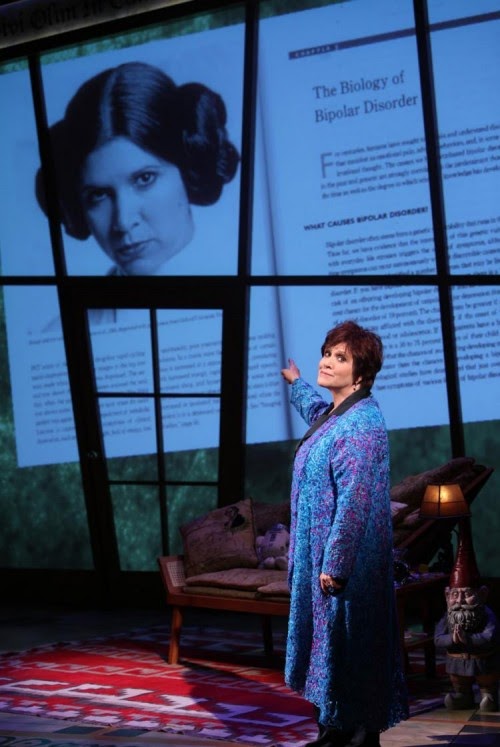 Six-and-a-half years ago, Fisher sat on stage at the Beverly Hilton and basically put on her one-woman show for the press. HBO set the stage with a Persian rug, big, overstuffed chairs and couches and a large audio visual screen. Fisher came out wearing those big, pretzel-like hair hubcaps she sported decades earlier as Leia. For those of us who saw "Star Wars" the day it opened, in May of 1977, it was like getting slapped in the face with 33 calendars.
She used the large screen behind her to map out how her Hollywood parents — Debbie Reynolds and Eddie Fisher, and the woman who broke them apart, Elizabeth Taylor — were basically the Brad Pitt-Angelina Jolie-Jennifer Aniston of their day. She took her mad life and fearlessly turned it into comedy gold.
"My dad," she told us, "was never really in my life; I saw him more on TV than on the planet." In later years when they reconciled, she came to refer to her pot-smoking pater as "Puff Daddy."
Distilling so much intense personal distress came with a price. HBO executive producer Sheila Nevins that day called Fisher's show, "a triumph over mental illness, or at least working it out with humour."
Fisher certainly had earned the right to goof on herself, having survived a Hollywood childhood that would have unhinged Obie Wan Kin obi. Fisher also had to survive sudden movie fame at a very young age as the female face of the iconic Star Wars franchise. She told us that she learned "that this was not a great thing — to get to be famous." She joked that George Lucas so owned her image that she owed him a dollar every time she looked in the mirror.
There was also a brief marriage to Paul Simon, the drug overdose death of a friend in her bed, her own battles with booze and drugs, bipolar disorder and eventual shock therapy.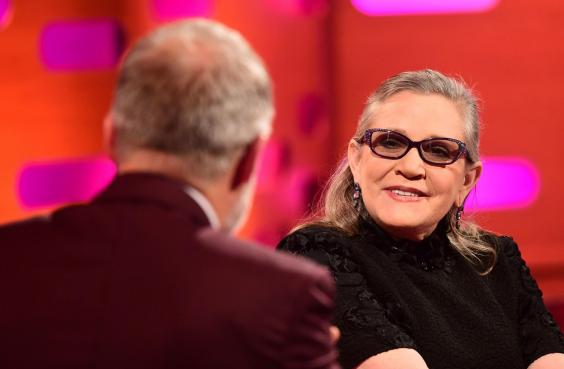 She handled it all with a raw, searing wit as well as a filter-less ability to speak the truth. Both were on display in the post-performance/session scrum that day on press tour. HBO usually whisks talent out of the ballroom via a backstage getaway but Fisher waded forward into a scrum of reporters and held court in a dark corner of the large auditorium. She stayed till every question was asked.
That's the Fisher I found even more fascinating. She was chatty, feisty, adorable and on the spot smart. Every question was fully processed. She must have been the ultimate dinner guest; self effacing but very in command.
One thing she said that day stayed with me: "You're only as sick as your secrets." Fisher had decided late in life to purge all of hers, including the recent revelation that she has had an affair with Harrison Ford during production of the original Star Wars movie.  Fisher knew her whole life was an open tabloid secret anyway, and if it was going to be out there, "why not let my version be in it."
The truth did seem to set her free, Fisher's way, perhaps, of using The Force. She'd wince at that, and come up with something better. That we can't hear it is just one more sadness at the end of a tough year. The thing to cling to, however, is all the words and wisdoms she left, all the wonder she accomplished over a remarkable life.