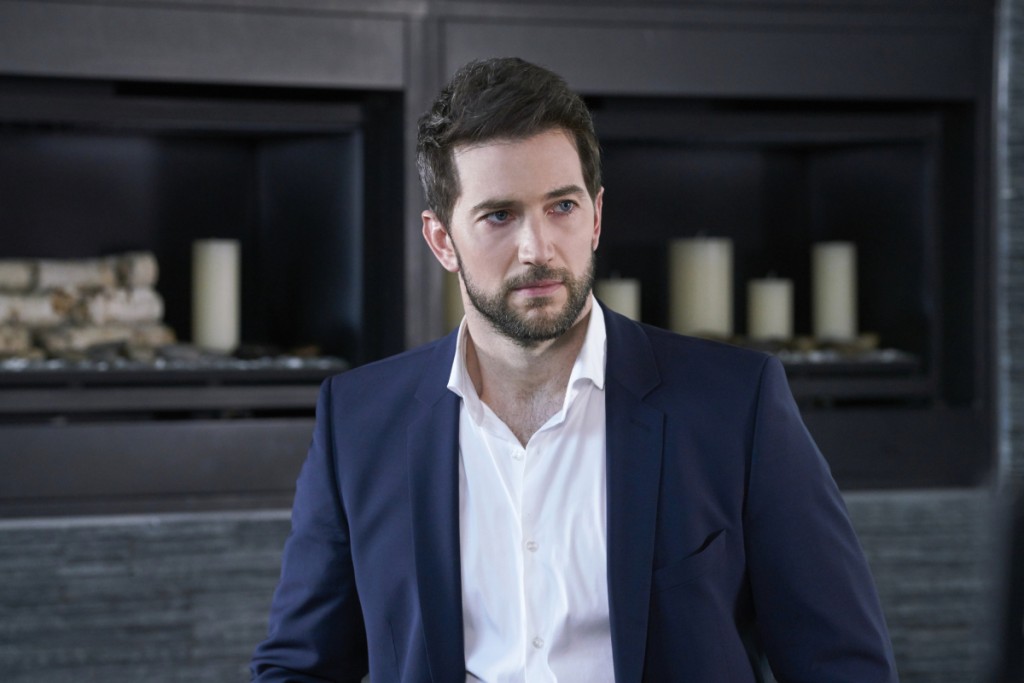 The new year started Sunday with a new series: Ransom, which premiered Sunday on Global and CBS.
If you missed it, don't feel like you've been held hostage. Global's got it again on Wednesday night and then again this coming Saturday. Global simulcast CBS' 8:30-ish start (football over-runs play havoc with Sunday schedules). The series drew a little over 7 million viewers in the Sunday overnights stateside.
The international co-production stars Luke Roberts (Black Sails, Game of Thrones) as savvy, world-class hostage negotiator. His character, Eric Beaumont, was inspired by the professional experiences of real-life crisis negotiator Laurent Combalbert. The character, we're told, hasn't lost a hostage yet. Canadian actress Nazneen Contractor (The Border) is among the co-stars.
Ransom was shooting on location in Toronto's west end when I was on set several months ago. Roberts, who's in almost every scene, was too busy to bug for an interview at the time but we spoke a few days later on the phone. Read more about Ransom and Roberts here in this feature I wrote for The Canadian Press.
Read on for more from Roberts, a UK native who hopefully reads as self-deprecating and charming as he sounds:
What's it like working with executive producer Frank Spotnitz?
To work with Frank is amazing. I grew up on The X-Files. Man in the High Castle is doing great things. I had met him actually for an audition a few years ago for High Castle. The last reading was with Frank, and he was just such a wonderful human being. A very good actor's director, certainly for the purpose of auditioning.
What was it about the character that drew you to this role? 
Where ever I can, I always try to play characters who are brighter than I am. It's sort of inevitable in my case. It's good to play these high-functioning, smart people; they' just take you further down the rabbit hole. Even just researching them is very intriguing.
Where you looking for a more contemporary role?
I've really enjoyed the last few years. I have had the good fortune to be in Wolf Hall and  Black Sails and Game of Thrones.
I definitely was hoping after Black Sails that my next role would be a contemporary role and I was also hoping it would be an American role. The 10-year-old boy in me is always hoping to be running around the streets of New York with a nine millimeter glock—don't tell me why, it's a terrible image really. I grew up with films of the 80's and 90's, an escapism mixture of humor and thrill. Here I am lucky enough to be doing that.
Definitely it's fun to get out of britches and those long, long, long, long waistcoats and high boots and to be in the sharp suit with a cell phone in your hand and solving the worlds problems in that way—its really fun for me.
Very different from Wolf Hall I would imagine.
Wolf Hall was a very gentlemanly affair. Gentleman academic director, everyone quietly revered and rightly so. Very intellectual enterprise. To be surrounded by such acting royalty for want of a better, more democratic phrase. Sort of the best of British.
My challenge is more of a vocal one on this.
How do you mean?
If I was doing it in my own accent I might feel a bit pompous and weird. It would sound as if I was going around life coaching all these people and rescuing damsels in distress. Whereas you do it with am American voice and it somehow has a an easy, common man heroism to it, so it's kind of cool.
You also worked on both Reign and Beauty and the Beast in Toronto, correct?
Beauty and the Beast was the first time I came up here and worked. I was very well treated on both productions. It's a great city and has so much to offer. I haven't weathered it, however, during the winter!
You're dodging another Canadian winter by shooting the back five episodes of Ransom in the South of France. You must be looking forward to that.
Yes, absolutely. I'm a huge fan of Nice, went there a few times with my parents [from England].  We got on the ferry in the car drove down to the south of France on a few occasions. Look forward to seeing it through adult eyes.
Why the two-country shoot?
It's a co-production. The French contingent have been wonderful so far, I'm looking forward to their warm embrace. We'll be shooting each episode in France over 10 days—quite a change from seven days [for each episode in Toronto].
Why the different work schedules?
In France, I understand the unions are particularly strong — which can only be a good thing for everybody.