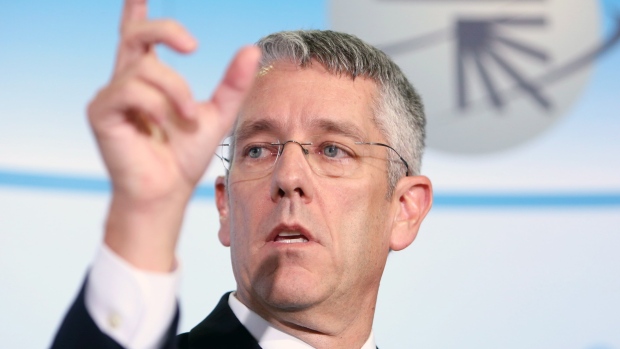 OTTAWA — The 22nd annual Prime Time in Ottawa industry conference — a good place to take Canada's TV temperature — kicked off Thursday. Bell Media's least favourite CRTC chair, Jean-Pierre Blais, managed to duck in and out without a single question about those Super Bowl ads.
Blais, whose term as chair ends in June (although it could be extended), honored his commitment to appear as a moderator despite being in the centre of a shitstorm over Sunday's Super Bowl broadcast. (Follow this link to a story I wrote about that for The Canadian Press).
He did appear defensive as he moderated a morning session titled "Media Leaders in the Age of Experimentation." Earlier in the day, a reference was made to the time the former Harper government pulled the rug out from under Blais and the CRTC when a minister tweeted right in the middle of the "Let's Talk TV" hearings that there would never be a Netflix tax. Blais said he was heartened that some in the room seemed sympathetic to his predicament at the time, but then took things a big step further:
Said Blais: "You cannot chose to advocate [CRTC] independence only when it suits your cause."
The consensus in the room afterwards was pretty much, uh, well, yes you can.
After the session, Blais took off like he was double parked with the engine running on Laurier.
The day ended with an appearance by The Honorable Melaine Joly, who  was interviewed on stage by Canadian Media Producers Association head Reynolds Mastin.
There were rumours Joly would make a big announcement at Prime Time in Ottawa. Would she name the next chair of the CRTC, or extend Blais' term a year or three? Would she announce a Netflix tax?
Joly has spent her year-plus in office listening to many in the industry on the state of television, film and culture in Canada. She made headlines in Banff last June, saying it was time to "hack the system" as we move forward with "Canadian content in a digital world." Joly has also repeatedly said she wants to encourage risk taking in the industry.
One thing she has heard from the various town hall meetings across the country is that "Canadians are anxious about the cost of their broadcast services." Cable bills. in other words, are already way too high. A Netflix tax, one might surmise, could be seen as the last straw.
A Netflix tax, however, is being pondered in parts of Europe and Joly says she is looking at that approach carefully.
Mastin asked if the minister was considering an amalgamation of the funding agencies, including the CMF and Telefilm, creating a "super agency."
All will be revealed when the government launches their cultural policy, a move that is expected later this year. Joly did say the government has heard from producers already buried under paperwork and administration.
Joly repeated — to applause — that she would rather take risks than keep the status quo. That's about as close, however, as she came to saying anything. To be fair, there's not much more she can say in advance of the cultural policy launch. Still, the mood in the room seemed to be shifting from "welcome" to "show me."
Joly did hold a press scrum after the session and took about a dozen questions. I asked if she feared the Trump administration might take an "America First" approach to TV and film production, impacting service productions in Vancouver and Toronto. Joly said her colleague, Foreign Affairs minister Chrystia Freeland, was working to remind officials at 35 U.S. states that Canada was already their preferred, No. 1 partner.
She also repeated she was against a Netflix tax, but hinted the government was looking at ways OTT services can provide participation funding for Canada's production community. Good luck with that; I've asked Netflix CCO Ted Sarandos directly about that and he says his company already contributes — by employing Canadians, especially in the animation industry.
Joly still feels she has the "coolest job" in cabinet. That job, she says, is to promote Canadian content, to basically be the industries "chief marketing officer."
As for the CRTC appointments, there are four openings and the deadline for submissions is Feb. 20. "Anybody in this room who wants to apply, please do," she advised. "We want people who understand the mandate and objectives of the CRTC."