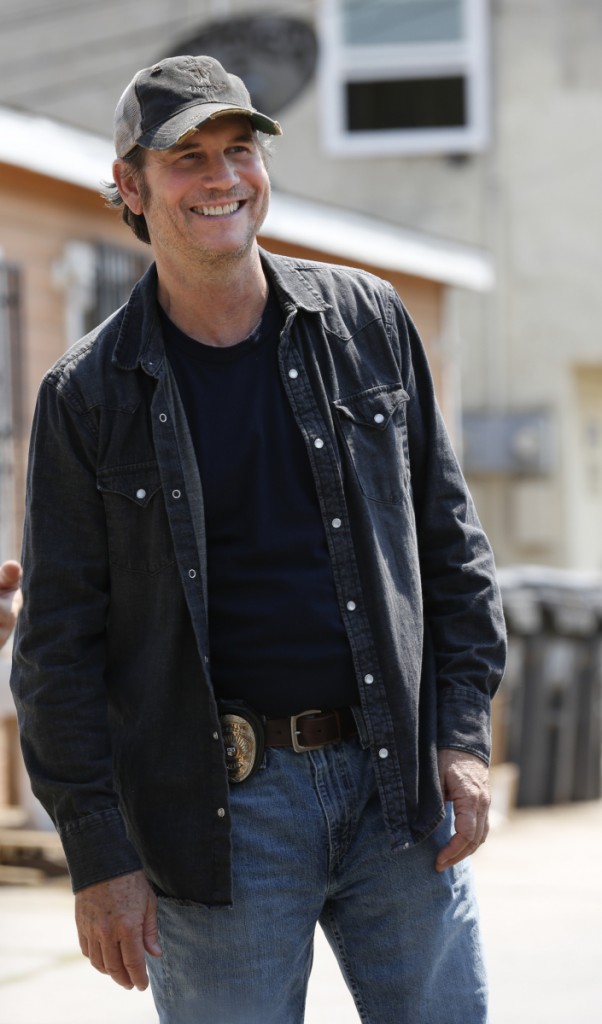 I met Bill Paxton, with other reporters,  on a couple of occasions. Once or twice during the run of HBO's Big Love, and just last month in Pasadena during the TCA press tour where he was promoting his new CBS series Training Day.
He was his usual, good-natured self on that day, dominating the session. There was no hint that he would be gone just over a month later, dying after complications from surgery. He was 61.
My most direct connection with him was over the phone. In the spring of 2015, he was promoting the History Television miniseries Texas Rising and I was one of God knows how many phoners he had that day. It was one of those 15 minute interviews that turns into half an hour where you knew you could double it again if the publicist wasn't already down to her cuticles.
When the news reached me Sunday that Paxton had died, I remembered that conversation and went to look for my transcription of it. I couldn't find it, and realized I was not able to sell a Paxton story as I focused more on his Canadian-born cast mate, Brendon Fraser, for a piece that went on the CP news wire.
So I found the audio link and listened to Paxton again. I probably could not have used much of the conversation anyway — it was that good. It would have been hard to convey the passion he felt for working on this very Texas project, for the joy he took in working with his fellow actors, for everything he talked about. For Living.
Paxton was from Fort Worth, Texas. He was eight when his dad took he and his brother to Dallas on Nov. 22, 1963, to see President Kennedy ride past in a motorcade. There are pictures of him sitting on somebody's shoulders.
Texas Rising was kind of a follow up to 2012's highly-rated Hatfields & McCoys. Paxton played American politician and soldier Sam Houston and knew more about him than most Texas historians.
"He was a huge hero to my dad," said Paxton, who referenced his father several times in our conversation. "Not just because of his exploits and his deeds but just because of the man himself. My dad told me we're related to Sam Houston."
Houston's mother's name was Elizabeth Paxton. "We're second cousins four times removed," said Paxton. "So this is a part of a lifetime for me."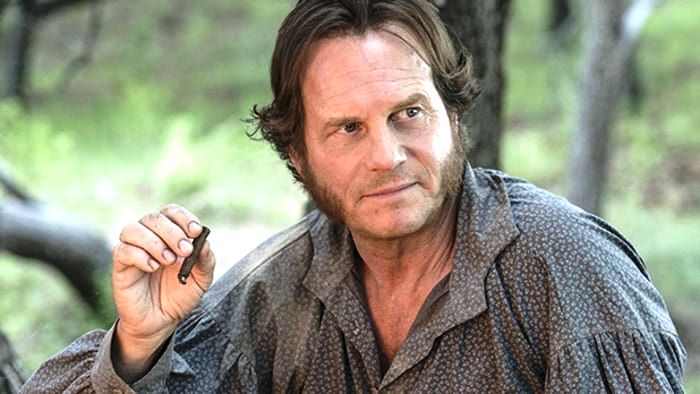 Paxton got right into the role, right down to the muttonchops he grew. "My Neil Young look," he joked. Italian hairdressers curled his hair each day, using century-old curling irons.
The actor gave me the Coles notes on his character. "There were two classes of people who adored San Houston," he said, "artists and women."
Houston spent his early years, according to Paxton, "learning about birds and bees from a beautiful indian native as hes' walking naked along the Tennessee river reading the Iliad living an Utopian existence." At 20, he was critically wounded in battle during the War of 1812. He reinvented himself as a politician and was Andrew Jackson's protégé, "on the fast track to the White House."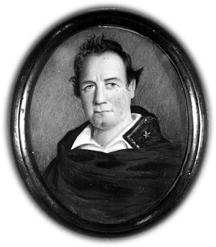 At 35, however, his marriage to an 18 year old causes a scandal and quickly falls apart. "He literally, next day, abdicates as governor and goes to Arkansas to live with the same tribe he lived with as a boy."  During this time, he "stayed drunk for about a year" and refused to speak English to white settlers. "He'd only speak Cherokee — you can't make this stuff up.
"Jump to the end of his life," says Paxton. "He's now been a congressman, a governor and been made governor again. Texas has been annexed but wants to secede and become a slave state."
Houston refuses to take the confederate oath and is thrown out of office. "He knew that the Civil War would bring the South to its knees. He died broke because he would not take any money—not use the political offices for personal gain."
At this point I'm fascinated, but mindful that the clock is ticking. "Tell me about Brendan Fraser," I ask, knowing I'll need a quote for that piece.
Paxton says he's known Fraser for 20 years, measuring the time against the age of their respective children. Seems Fraser just went looking for Paxton and showed up at his door. "What I like about that guy, he's a kind and giving person."
He talks about his other co-stars on the series, including Kris Kristofferson. "He performed a song at the screening at The Alamo the other day," says Paxton. "I openly wept."
He talks about shooting in Durango, Mexico, and is all over the history of that town as a favourite film locale for John Wayne and others. He talks about the cinematography, the wide, CinemaScope look History was aiming for in their broadcast, the extras, the horses, the food.
He even worked in a surprising story about, off all people, Phil Collins. Seems Collins formed a fascination with Davy Crockett, through the old Disney series, while growing up in England. There was a cast screening of Texas Rising right at The Alamo in San Antonio just prior to our interview. Paxton hadn't been to the historical site since he was about 10 years old, when his dad took him there on a family vacation.
Collins, I gather, was at the screening but had visited the Alamo way back when he was on his first tour of North America with Genesis. Collins told Paxton he had been collecting Alamo artifacts since he was a lad hooked on Davy Crockett and John Wayne movies.
Fast forward several years and Collins is a big private collector of Alamo artifacts. So much so that he donates his collection to the Alamo and the state of Texas. Says Paxton, "They have to build a museum to house this amazing collection."
The publicist, who's been listening in and probably realizes there's not a lot being said about the actual miniseries, said "last question" for the fifth time. We finally wrapped things up.
Paxton was such a life force on the phone I didn't rush the stage in January to try and get in on the Training Day scrum. Figured there'd be a next time.
It's been heartening to read a few colleagues on Facebook tell similar stories about their encounters and interviews with Paxton, about how he remembered faces and names. He just seemed like somebody who never lost his sense of wonder; somebody who was doing what he loved, and loved what he did. Sixty-one years isn't nearly long enough, but if that's how he lived his entire life, it sounds like he made the most of it.