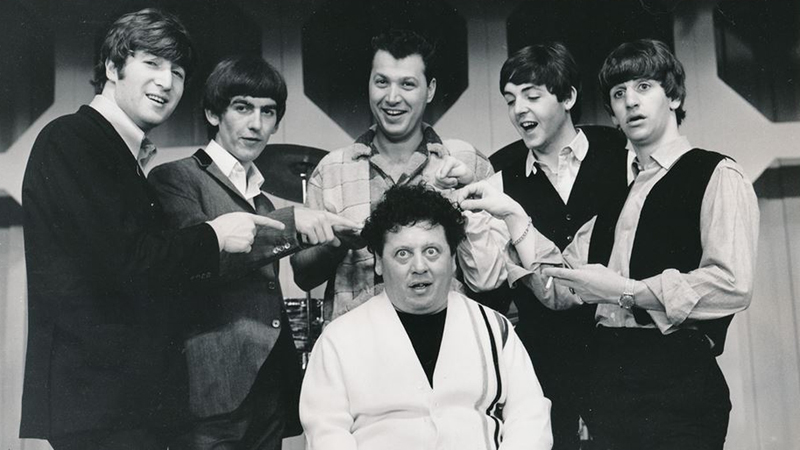 Famed during the Ed Sullivan Show years of the '60s as one half of the comedy team of Allen & Rossi, Marty Allen died Monday in Las Vegas. He was 95.
Allen & Rossi appeared 44 times on Sullivan, scoring their biggest audience on Sunday, Feb. 16, 1964 on a showcase that also featured The Beatles.
This was the Fab Four's second appearance on Sullivan, a week after taking America by storm on the 9th. Just as comedian/impressionist Frank Gorshin dined out for years as part of the first Beatles playbill, Allen & Rossi's bookings soared after their brush with The Beatles, which took place in Miami.
The comedy team did a sketch that week about boxing, fitting since Muhammad Ali and Sony Liston were both training in Miami at the time for their upcoming heavyweight bout. The night of the show, both Liston and Joe Louis took a bow from the audience.
With his curly mop of hair and his bug eyes, Allen was funny just standing still. His trade mark, "Hello dere!" opener was clearly part of the Borscht Belt blend that went into Eugene Levy's Bobby Bittman character on SCTV. Bittman would hold up a giant prop phone and yell, "How are ya!"
The comedy duo split in 1968. Allen went on to do dozens of game shows throughout the '70s such as The Hollywood Squares, Password and Match Game. He continued performing with his second wife, Karon Kate Blackwell, well into his nineties.
He's also tied in with a kooky bit of TCA lore. Allen's mug bore an uncanny resemblance to a former member of the Television Critics Association. A few years back, a chance reference to said resemblance led to the tracking down of an errant member. It is not recorded as to whether, upon the location of this individual, anyone said, "Hello dere!" — but it would have meant HUGE laffs.